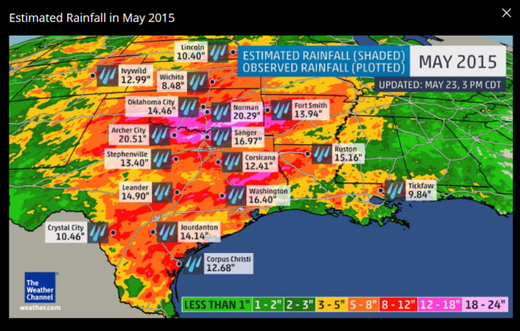 Officials in parts of Texas are warning that
flooding could last for weeks in the wake of unprecedented amounts of May rainfall
. Those rainfall totals, which have
now topped 20 inches since May 1 in at least two cities
, will climb still higher over the Memorial Day weekend as thunderstorms dump even more rainfall on an already water-logged region. The National Weather Service in Corpus Christi, Texas, says flooding is likely to continue for weeks along the Nueces River just west of Corpus Christi. The flooding is affecting a stretch downstream of the Wesley Seale Dam, which impounds Lake Corpus Christi. That reservoir has reached its full capacity due to widespread heavy rainfall upstream across South Texas this month.
In a disaster declaration issued Thursday, Nueces County Judge Loyd Neal said water releases from the dam began this past weekend "in order to prevent damage to [the dam] and to avoid uncontrolled downstream impacts." About 100 homes have already been cut off by floodwaters, and hundreds of homes are at risk of flooding in the days ahead. The rising Wichita River prompted evacuations of parts of the east side of Wichita Falls, Texas Wednesday night and Thursday morning. The river is forecast to crest on Tuesday about one foot below its record crest from late June 2007.
Over 100 locations in the central and southern Plains are currently reporting river flooding
, the majority of which are in Texas, Oklahoma, Louisiana, Arkansas and Missouri.
Many cities have already clinched a top five wettest May in their weather records
. At least
four locations, including Wichita Falls and Corpus Christi, have now recorded their wettest May on record
. You can read more about that below in our rainfall records section. With the weather pattern remaining virtually the same through Memorial Day weekend, additional flash flooding and worsening river flooding is likely to occur. As mentioned already, a persistent weather pattern has been fueling the heavy rain in the Plains.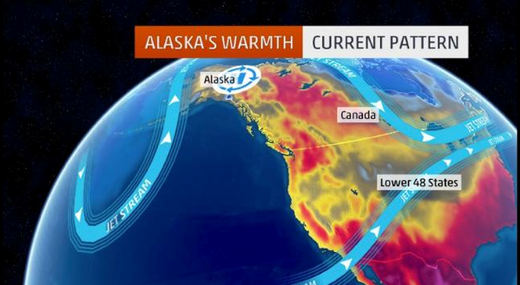 A southward dip in the jet stream has been locked in place over the western states, allowing it to launch disturbances into the Plains. Those disturbances provide the necessary lift in the atmosphere to trigger thunderstorm development as they intercept a warm, moist air mass in place near the surface of the earth. Unfortunately, it appears this weather pattern will stay in place through Memorial Day weekend, triggering additional rounds of rain and thunderstorms. The higher threat for additional heavy rainfall in the most saturated areas of Oklahoma and Texas is through Sunday, when clusters of slow-moving thunderstorms are expected. Right now, our forecast guidance suggests at least some parts of the Lone Star State may still see locally heavy rain again on Monday