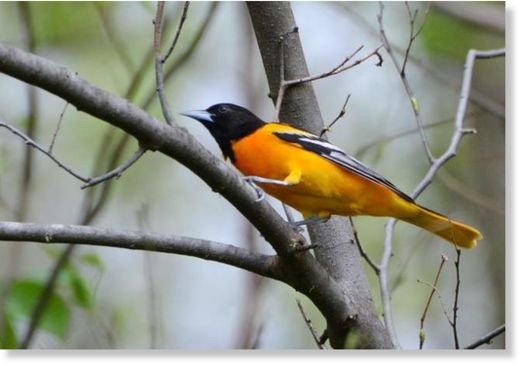 Most often, the only Baltimore Orioles you'll find in Northern California are the 6-foot-tall variety that migrate to the Oakland Coliseum a couple of times each year.
Members of Stockton's Audubon Society, however, are excited about a Baltimore Oriole — a bird, not a baseball player — spotted recently at Westgate Landing Regional Park just north of Highway 12, in the Delta west of Lodi.
The oriole was first seen by Lodi birders Dave and Pat Croft on May 15. Other birders have since come from as far away as Palo Alto to get a look, Dave Croft said.
The distinguished visitor is a very loud fellow, Croft said, and is quite active flying back and forth between the trees in the park.
"He might be singing for a mate," Croft said. "Who knows?"
The find is rare,
said well-known local birder David Yee.
"Here in San Joaquin County, this is only the second time a Baltimore has ever been found," Yee wrote in an email. "The first was back in the early '80s. ... There are probably less than 10 records total of Baltimore Orioles for the entire Central Valley, so it is a rarity indeed."

Baltimore Orioles are typically found east of the Rockies
, but they do nest as far west as central Alberta in Canada.
And, like any bird that migrates long distances, they sometimes stray far from their typical range. Often, young birds will simply go the "wrong way" and fly west toward California, instead of east where the majority of the population goes, Yee said.