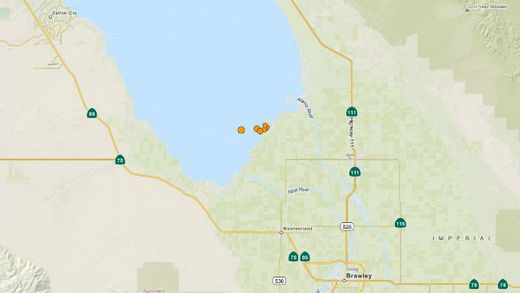 A series of six earthquakes ranging in magnitude from 2.8 to 4.1 rattled the Imperial County city of Calipatria and were felt in the San Diego area Wednesday night.
All the earthquakes occurred near the southern edge of the Salton Sea. The strongest, a magnitude-4.1, occurred at 8:15 p.m., about 10 miles northwest of Westmorland.
The first earthquake was reported at 8:18 p.m., and the last at 10:06 p.m., according to the
U.S. Geological Survey
.
The epicenter for five of the six earthquakes was about eight miles north north-west of Calipatria.
The magnitude-4.1, which occurred at a depth of five-eighths of a mile, was felt in parts of San Diego, La Mesa and Alpine, U-T San Diego reported.
Two of the earthquakes had a magnitude of 3.3. The first, at 8:51 p.m., occurred at a depth of 1.8 miles, and the second, at 10:06 p.m., was at ground level, according to the USGS.
City News Service