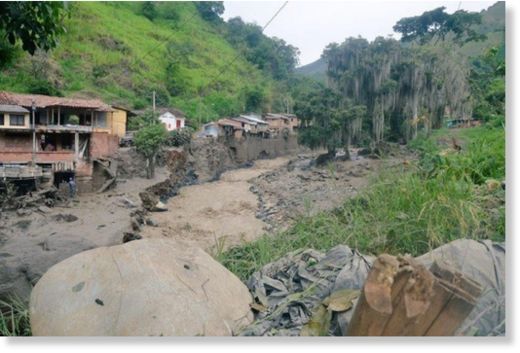 Colombia's emergency and disaster management services have been carrying out damage assessment and needs analysis after the massive floods and landslides that struck early on 18 May 2015 in the municipality of Salgar, in Antioquia.
In a statement from earlier today, 19 May 2015, Colombia's National Unit for Disaster Risk Management (UNGRD) said that 62 people have died and 40 have been injured, according to the latest official figures from the flood disaster.
According to local media, another body has since been recovered, bringing the death toll to 63. The bodies of the victims have been taken to the city of Medellin in order to expedite identification. It is thought that more people may still be missing, although it is still unknown exactly how many.
Rescue and relief efforts have come from all levels of government, NGOs and the community. UNGRD say that Colombian Red Cross, the Colombian Civil Defense, Fire, Police, Air Force, Army, Ministry of Health, in coordination with the Departmental Council on Disaster Risk Management of Antioquia, DAPARD, as well as UNGRD, are all operating in the affected area.
Teams in the disaster zone are working on removal of flood and landslide debris. UNGRD say that disaster and relief workers are providing victims with health care and offering support for the bereaved. Food, temporary shelter and clean water is also being provided.