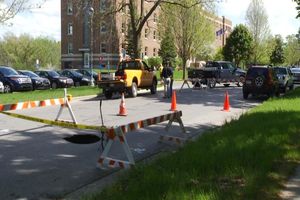 Motorists who drive up and down Elmwood Avenue will need to find a new way to get where they're going while a large sinkhole blocks their route.
The roughly four-foot deep sinkhole broke up the roadway just south of Medical Campus Drive at about 1:30 p.m, said Dave Green, Traverse City's director of public services.
A plywood board covered the hole Monday afternoon, supporting a traffic barrier and surrounded by orange cones and yellow caution tape. Elmwood Avenue was closed to through traffic between Seventh and Eleventh streets as work crews marked utility infrastructure locations for future repair work.
Crews plan to begin fixing the the sinkhole first thing Tuesday morning.
"We've got the road closed now and plan to attack it first thing in the morning," Green said.
Crews likely will keep the road closed for two days as they work to repair the hole, Green said. Limited lane closures likely will follow as crews repave the street.
Green said the exact cause of the sinkhole remained unclear late Monday, but he said an old 15-inch clay tile running under the road south of Medical Campus Drive appeared to have collapsed. A stream also runs under the road through a culvert near where the hole opened.
Green said he did not believe the sinkhole injured anyone or damaged any vehicles.
"Luckily nobody got injured," Green said. "That stuff on that side of town is old."