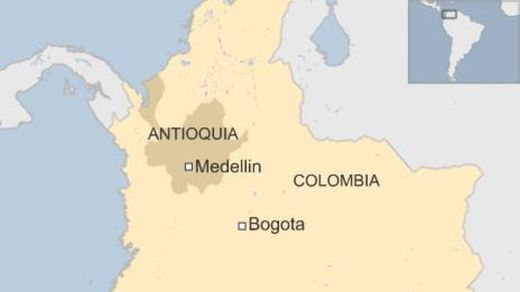 At least 33 people have been killed in a landslide in Antioquia province in north-west Colombia, officials say.
The director of Antioquia's Disaster Prevention Department told local media 20 people had been injured.
Heavy rains caused the river Liboriana to burst its banks, triggering the landslide.
Much of the village of Santa Margarita, south-west of the provincial capital Medellin, was reportedly swept away when the landslide hit early on Monday.
Police in Antioquia put the number of dead at 39.
Antioquia Governor Sergio Fajardo tweeted that it was a "tragedy" and "that all emergency teams have been scrambled".
Local official Zulma Osorio spoke of a "tragedy of enormous proportions" and asked for firefighters and first response teams to be sent from surrounding areas.
She said the search was under way for missing residents, and that local officials were compiling a list of all the families which had been affected.