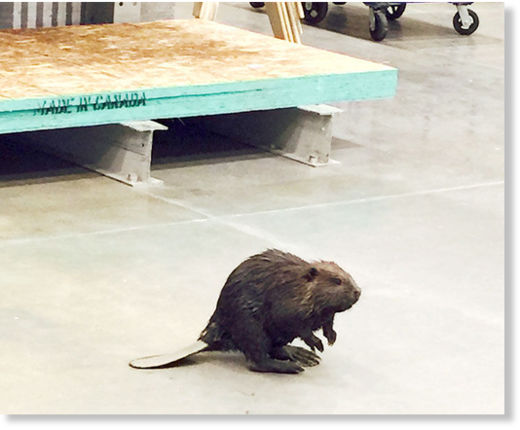 Sometimes driftwood just isn't enough, one beaver decided when it took an impromptu trip to Lowe's early Friday morning.
The beaver wandered into the parking lot of the Lowe's construction and home improvement store on the Johansen Expressway at about 7 a.m., triggering the automatic doors and strolling inside.
Once inside the store, the beaver made its way to the plumbing department, where store employees attempted to provide assistance to the wild animal.
A cellphone video of the incident shows employees asking the beaver if there is anything they can help it find in the store. However, the beaver — like many construction store shoppers — seemed to prefer to wander aimlessly through the store instead of asking for help.
One witness in the video observed that the beaver appeared to be injured.
Eventually, employees were able to trap the beaver under a cardboard box until a technician with the Alaska Department of Fish and Game could arrive to remove the animal from the store and bring it to wildlife biologist Tony Hollis, who had received a wake-up call about the beaver from the Alaska State Troopers dispatchers.
"Oftentimes it's usually something like there's a bear in town or an ornery moose or something, but this was a little different,"
Hollis said.
Hollis took the beaver for a ride down to the Chena Pump Boat Launch, where he released it into the Tanana River. He said he chose the location because it seemed like a place at which the beaver wouldn't become too much of a nuisance.
It's not exactly clear where the beaver came from since there is no open water in the direct vicinity of the Lowe's store, but Hollis guessed it may have come from the wetlands several blocks to the north and come south across the Johansen.
Ironically, the beaver was actually most likely looking for home-building supplies.
The beaver was about the age where it would typically be kicked out of the house and head out to build its own lodging, according to Hollis.
"I'm not really sure what he was thinking, but he was the age class that's dispersing out of the house," Hollis said. "Whether he got confused or who knows what happened in his mind that he ended up at Lowe's."
According to Assistant Store Manager Adam Vanhoveln, this is the first time an animal has triggered the store's automatic doors. Vanhoveln said the beaver didn't cause too much of a disruption to the store's operation.
Luckily for Lowe's, the beaver was unable to locate the lumber department.