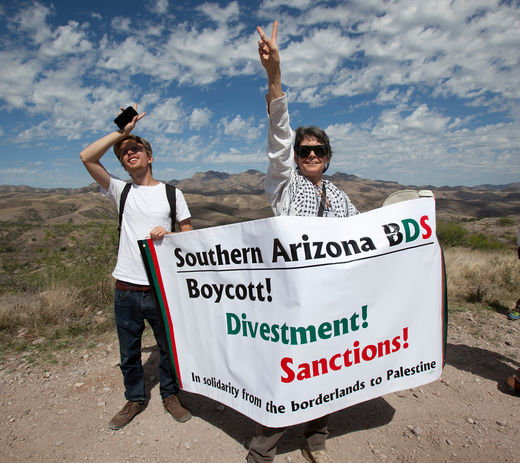 On May 2, a few miles from the U.S.-Mexico border, just north of Nogales, on Tohono O'odham land, a group of activists unveiled a banner of protest in front of a new surveillance tower, manufactured and operated by the Israeli company Elbit Systems. The group came to bring border justice, indigenous rights and power, and anti-militarization movements together with the Southern Arizona BDS Network to confront the Israeli/US partnership that is militarizing the US/Mexico border with increasingly profound effects on the people of this region. As is the normal case for residents who live and work in this hyper-militarized border zone, on our excursion to the tower, it didn't take long for a U.S. Border Patrol agent, on an all-terrain vehicle, to speed up and rush toward our group, asking us what we were up to—and asking us to leave.
In 2014, the U.S. Dept of Homeland Security awarded Elbit Systems, the Israeli company that is in charge of the surveillance apparatus along the separation wall in the West Bank, a contract that could be worth a billion dollars to further militarize the Arizona-Sonora borderlands.
Groups of activists that have come together to oppose this contract are connecting the anti-militarization movement in Southern Arizona to the Palestinian-led movement against Israeli state violence—for, while these protesters oppose Elbit's profiteering from migrant control and the militarized domination of indigenous lands in Southern Arizona, as Naomi Klein writes, "No company is more deeply embedded in Israel's brutal architecture, occupation and segregation than Elbit."
In joining forces to oppose the US/Israeli border surveillance and militarization surge in this region, our network of activists hopes to send a message of solidarity across our movements and across the world, to our fellow activists and to the Palestinian people, who inspire our resolve against military occupation and state violence in all its forms.
The new security towers manufactured and operated by Elbit Systems have been erected with high-powered surveillance cameras and radar that have been previously deployed and tested in Palestine, used here to detect migrants crossing the desert.
The new wave of militarized control of migration in this region includes building a "virtual wall" along the US/Mexico border, where there is already an unprecedented deployment of armed agents and surveillance technology, all intended to filter migrants into ever-more dangerous zones during their crossing—and this is being done in a region where so many migrants have died crossing that it has been described as a "killing field."
As this video shows, activists from the Southern Arizona BDS Network, along with members of local organizations No More Deaths, Tucson Samaritans, Derechos Humanos, The Tohono O'odham Hemajkem Rights Network (TOHRN), People Helping People Arivaca, Students for Justice in Palestine, and Jewish Voice for Peace, visited three Elbit-built surveillance towers on our recent trip. During our visit, our group took time to collectively honor the Tohono O'odham people, the traditional, indigenous inhabitants of this region, and their current struggle to live freely on this increasingly divided land. We also stood silently in compassionate contemplation of the migrants who risks their lives to cross this region, who too often find themselves trapped by state agents and an incarcerating migration control system.
By working across movements that share the values of opposing state violence and upholding human dignity and freedom,
we can see that the same companies that facilitate the occupation of Palestine and the US "War on Terror" have also invested in the domination and control of lands and people in the US/Mexico border region.
Companies including Raytheon, Elbit, Lockheed, Boeing, G4S, and more, are invested in the militarization of life, at different levels of intensity, across the globe. In Southern Arizona, Tohono O'odham people who, only one generation ago, freely roamed the yellow-green rolling hills in this region, now cross checkpoints on their way to school and work, and Border Patrol agents pursue anyone in these hills, fully armed. Migrants who cross this land avoid apprehension at all costs, and more than 6,000 have suffered and died in the desert, while many others are apprehended and deported, and usually maltreated. Meanwhile, the Israeli army uses the same technologies that assist US Border Patrol to occupy and dominate Palestinian people.
The solidarity this is creating is highlighted by the work of many people in the Southwest and the US/Mexico border region, who have long held sympathies with the Palestinian cause, and are now protesting the militarization of their home region, sending a message to the Palestinian people and their supporters, of a shared struggle against militarized control of land and life.
Southern Arizona BDS from Bob Torrez on Vimeo.