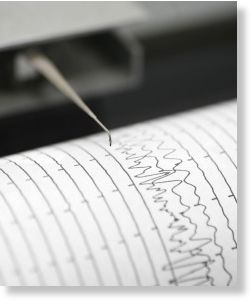 A strong earthquake measuring 4.6 has hit Marlborough.
GeoNet is reporting it was located 5km south east of Seddon, south of Blenheim followed by a 3.3 located 30km east of Turangi.
The quakes hit shortly after 5.30pm.
Chris Sutherland was enjoying a pint in Paddy Barry's pub in Blenheim when he felt the jolts.
"I was sitting on a bar stool and it rocked a bit and the drinks on the table moved a little bit. Luckily my drink wasn't spilled. If it had I would have licked it off the table."
Pam Tawhara said it knocked over her cuppa and she had to hold onto her desk and computer.
"It took years off my life."
Jodi Cane from Seddon said it "felt like a train coming though our lounge, quite a shake."
Robyn Thomson said her car parked in Springlands in Blenheim rocked as a result of the jolts.
Wendy Gibson described it as a "rumbling jolt".
A St John spokesman said there were no reports of injuries or damage.
A Marlborough District Council spokeswoman said it was "no biggie" and there had been no reports of buildings damaged.
On Twitter people reported feeling swaying buildings but no damage or injuries.
That wasn't fun. #eqnz
— Chelsea McLaughlin (@chelseamc5) May 15, 2015
That was an #eqnz right as an enormous gust came past. THANKS FOR THAT I WASN'T USING MY HEART OR ANYTHING.
— Jess B (@jesscabah) May 15, 2015
Floods and earthquake in @Wellington_NZ - please give the poor city a break! #eqnz
— Tash Pieterse (@TashTasticNZ) May 15, 2015
Trying to work and building is still swaying from that jolt. I think it's time to bail and go to Muay Thai #eqnz
— Kim Anderson (@_kim_anderson) May 15, 2015