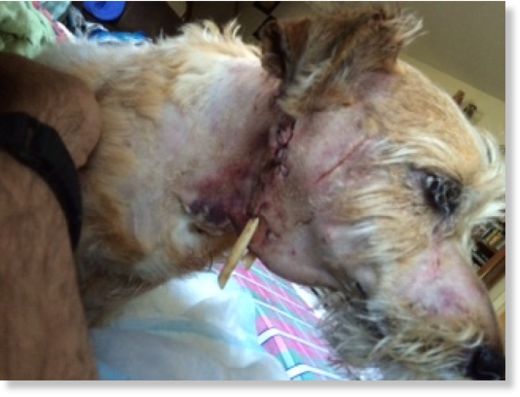 When Buca the dog arrived at the back door covered in blood, his family had no idea what happened.
"Large pools of blood were all over the rear steps," Edward H. Wenke, III told Patch.
This was around 10:30 p.m. Wednesday, May 6.
"We heard no disturbances prior to this occurring," he said. "The next morning we found his blood trail leading out of the woods in our rear yard."
The Wenke family lives on Colonel Ledyard Highway, near Wolf Ridge Gap in Ledyard. Buca weighs 18 lbs.
"We originally thought it may have been a coyote," Wenke said. "However, the following night, I heard a series of bizarre 'crying/screeching' from the same wooded area. After research on the web, I found several audio files of fisher cats that were exactly what I had heard."
The Wenke family rushed Buca to the V-E-T-S Animal Triage Clinic in Oakdale and said it was out of business.
"It was midnight by then and we lost over an hour," Wenke said. "I mention this so that anyone in a similar situation should know that this previously reliable 24/7 emergency animal service is no longer available."
He then rushed Buca to the Ocean State Emergency Animal Hospital in Greenwich, R.I.
"We got Buca stabilized by 4 a.m., but he was in shock from the blood loss," Wenke said. "
His head, face and throat were badly injured and they had to put numerous stitches plus drains to close the wounds. He also has a bite taken out of his ear."
The vet told Wenke some of the puncture wounds were up to 1.5" deep.
"Luckily, by a miracle, his arteries and esophagus remained intact," he said. "But his recovery will be long term. He is one hurting puppy."
Wenke said he wanted to share Buca's story so people see what kind of injuries fisher cats can cause.
"Ledyard Animal Control has been notified and they suggest that we hire a licensed trapper to get this critter out of the area," he said.