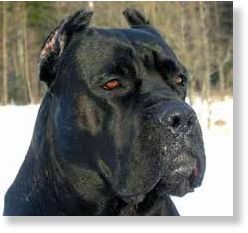 A Falls man was seriously injured Tuesday when his own dog bit him in the face, township police said.
Police were called to the 300 block of Trenton Road at 4:55 p.m. and found a female 2-year-old Italian mastiff, also known as a cane corso,
had bitten its owner in the face
, said Lt. Hank Ward.
The man suffered severe face trauma
and was taken to St. Mary Medical Center in Middletown.
It is unknown if the dog was provoked or what circumstances led to the attack, which occurred inside the house. There were no children present.
Ward said family members called 911. He said the township's animal control officer is investigating; the dog remains with the family.
An Italian mastiff can grow to 110 pounds, according to an animal website.
No further information was released because the injured man suffered facial trauma leaving him unable to talk to police, Ward said.