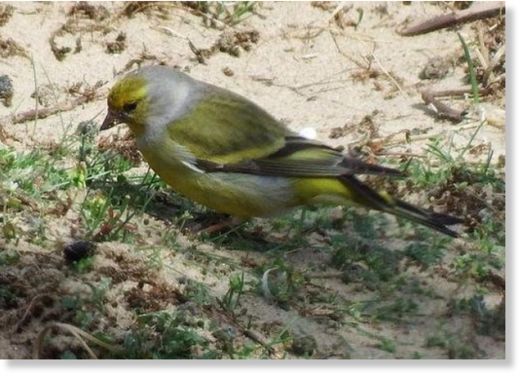 A citril finch was seen near pine trees at Burnham Overy dunes, west of Holkham beach, at about 8am today by Marcus Nash who runs Norfolk bird tours.
About 100 people rushed to the remote area after the sighting of the small songbird was recorded on Twitter and other birding information websites.
It is the second recorded sighting of a citril finch in Britain
- the first was in 2008 when one was spotted on Fair Isle off Scotland.
Citril finches usually live in the mountains of south west Europe from Spain to the Alps and are not birds which usually migrate.
One of the birders who saw the creature was Simon Chadwick, 45, from Overstrand.
He said: "It is probably a once in a lifetime bird sighting in the county. It was really good to see. It was nice to see something so rare."
Mr Chadwick added some people had driven about 400 miles to see the bird.
Another birder who drove from Sheffield to see it and photograph it was council worker Mark Reeder, 45.
He said: "It is a nice looking bird. Norfolk is a good place to spot birds."