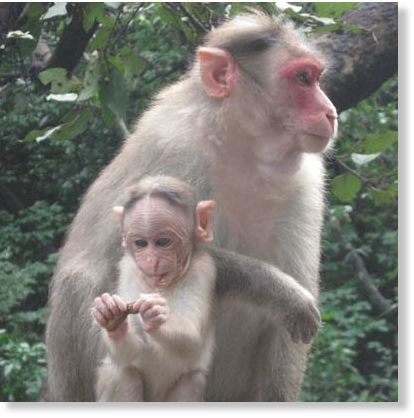 A gang has been prowling the streets of the city, attacking its residents and spreading fear in some localities. And before you wonder whether the police have been informed, know that this gang is of monkeys.
Residents from Sion, Chunabhatti, Parel, Andheri-Marol and Bandra are finding themselves at their wits' end
after frequent attacks by monkeys. On Thursday, an eight-year-old boy and a 35-year-old man were attacked in Parel.
In Parel, where the menace is particularly intense, monkeys have been found climbing buildings and reaching people's homes through windows and other open gaps. In one instance, they hopped up and reached the terrace of Laxmi Cottage building on Dr BA Ambedkar Road, where children were playing.
"On spotting the monkeys, the children started running and shouting for help.
The monkeys started imitating them, and one caught hold of an eight-year-old, Reon Mudlari, and clung on his leg. Scared, the boy tried to stamp his feet and free himself. That's when the monkey hurt him with his claw and bit him,"
said Yogesh Panhale, animal rescuer who was roped in by the fire brigade.
A member of Manav Abhyas Sangh, Panhale is working under Sunil Kadam along with one Hakim Shaikh. The team is roped in by even forest department in cases of emergency.
Panhale added, "When fire brigade approached us, we reached the spot immediately. But by then another resident, 35-year-old Rajesh Pille, was attacked. Pille apparently was trying to feed the animal and divert its attention."
The team immediately laid a trap to catch the monkey but was successful only at 1.30am. "We handed the animal over to the forest department in Thane as per procedure," Panhale said.
In other parts of the city, residents of Marol, Andheri and Sion-Chunabhatti said monkeys have been entering their homes through windows, entering kitchen for food and even damaging property.
Bandra West resident Meena Pahalajani said monkeys have been spotted in the area for the past few months. They enter homes, leave taps open and then flee through the balcony. "Residents have visited the area's ward office several times but help is yet to come," she said.
The problem with regard to animal rescue in the city is that authorities lack the manpower and equipment to deal with such incidents.
Pawan Sharma of Resqink Association for Wildlife Welfare said, "The prevailing methods of animal rescue in the city are not ethical or even legal. I have received many complaints from people who have witnessed animals being hurt in the process of being 'rescued'. The problem lies in the fact that there are no experts from the BMC or the Thane forest department to ensure that monkeys, or any animals for that matter, are properly rescued and rehabilitated."
When chief conservator of forests at the Sanjay Gandhi National Park Vikas Gupta was contacted, he said, "Instances of animal rescue within city limits are looked after by the Thane forest department and do not come under my jurisdiction."
A source from the forest department confirmed the same and said, "The department is poorly equipped and doesn't have experts or equipment to resolve such incidents."