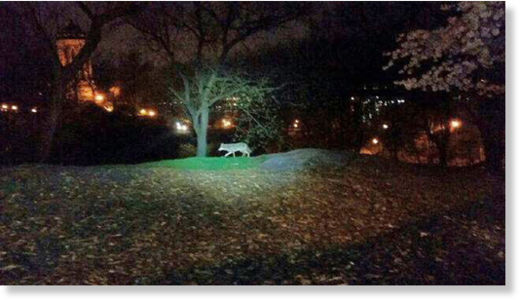 A vicious coyote attacked a pet dog and dragged it into the forest in a New Jersey town -
the latest in a string of incidents which have seen the wolf-like animals encroach on towns and cities.
The beast grabbed the beloved pet, a Yorkshire terrier, in the backyard of his owner's home in the township of Randolph, around an hour west of New York City.
The Yorkie, named Bo, was seen being carried away by the coyote around 10pm Tuesday, police said.
NJ.com reported that Bo's owner had let him out briefly when the coyote struck and watched the abduction without being able to help.
Police and wildlife officials combed the nearby woods in the hope of tracking down either Bo or the coyote, but turned up no trace of either.
Another Randolph resident reportedly said that the same coyote had repeatedly approached his dog on Tuesday night.
According to the New Jersey fish and wildlife department, coyotes are most aggressive around late spring and early summer.
Female coyotes tend to bear their litters in April and May, the department says, and the extra mouths to feed makes the animals bolder.
Authorities said this can even lead to attacks on humans, though those are rare.
The latest coyote attack follows a series of sighting in and around New York City.
This Wednesday a was chased down in Queens by the NYPD and tranquilized - officers posted pictured of the subdued animal, which they handed over to animal control experts.
Just days before another coyote gave officers in Battery Park City a memorable chase, as police patrol cars and even a helicopter were deployed to catch it.
This coyote, too, was tranquilized and given to animal control.
New Jersey is even more used to coyote sightings - one man in Bergen County was bitten last month by a coyote which later tested positive for rabies.
According to coyote experts, the best way to halt their advance is to avoid feeding the animals, to seal garbage as thoroughly as possible, and to keep pets and children away from them.
The animals were once creatures of Midwestern plains and southwestern deserts. But they have dramatically expanded their range in the last two centuries, partly because of declines in their predators, such as wolves and cougars.
Although coyotes have been hunted for sport and killed as threats to livestock, they're now found from coast to coast. There are an estimated 30,000 in New York state, where they were first noted in the 1930s, the state Department of Environmental Conservation says.
Hardy and omnivorous, they've appeared in cities from San Francisco to Detroit to Chicago, where one coyote popped into a downtown sandwich shop in 2007 and researchers have tracked hundreds in the area. In New York, there were at least four Manhattan sightings in 2010 and a headline-grabbing chase in Central Park in 2006.