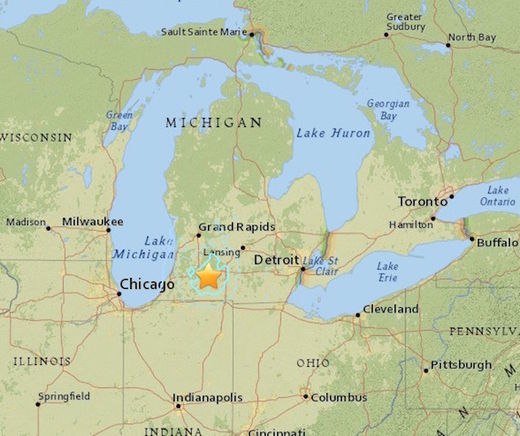 No injuries or damages were reported today after a magnitude 4.2 earthquake rattled Michigan and surrounding states shortly after noon today.
John Bellini, a geophysist at the U.S. Geological Survey's National Earthquake Information Center in Goldon, Colo., said the earthquake's epicenter was roughly five miles south of Galesburg, or nine miles southeast of Kalamazoo in central Michigan.
He said the earthquake at 12:23 p.m. could be felt widely across lower portions of the state and into northern Indiana, northwestern Ohio, eastern Illinois, southeastern Wisconsin, and western Ontario.
Gov. Rick Snyder's office said there were no immediate reports of damages or injuries.
Bellini said Michigan has had only one other earthquake of this magnitude, a 4.6 earthquake that shook the state in August 1947. Its epicenter was close to Saturday's - about 30 miles to the southeast.
He said earthquakes of this magnitude are capable of causing minor damages, such as knocking items from shelves, cracking plaster or windows, or damaging brickwork or chimneys on older buildings.
He called today's earthquake "
quite uncommon. Michigan doesn't get a lot of large earthquakes
."
Since 1973, the state has had only two other recorded earthquakes - one in the western reaches of the Upper Peninsula, the other in central Michigan
. He said dates for those quakes were not available.
He said he would not be surprised if Michigan has no aftershocks, or a few small ones that would not be felt.
Earthquakes tend to cause major damage beginning at a magnitude of 5.
"It is rare for Michigan to experience earthquakes," Snyder said in a statement, "but as we were reminded today, it does happen."
Snyder's office said Michigan State Police continues to monitor the situation.
Social media is buzzing with reports of the earthquake. Michigan residents reported feeling the earth shake in Grand Rapids, Lansing, Ann Arbor and Troy.
Residents report that they felt it last for a few seconds. Some say their house shook; others said it startled their pets. We've compiled some tweets of their accounts below.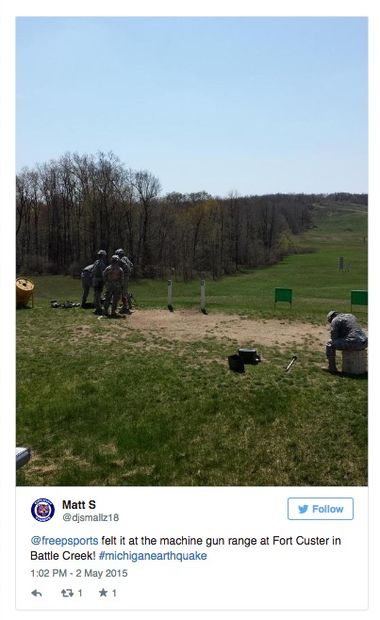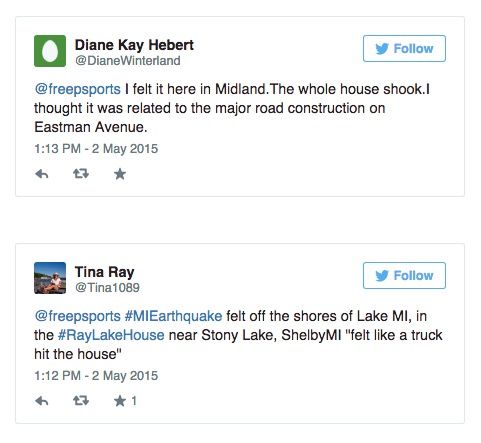 DId you feel it, as well? Any other details you can share? Submit them in the comments.
Free Press sports web editor Brian Manzullo and Michigan.com contributed.