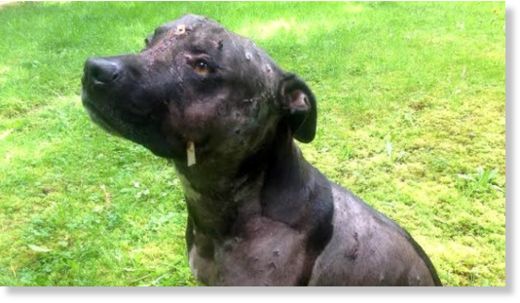 A four-year-old pit bull is recovering after being attacked by a cougar near Powell River, B.C., last week.
Bruce, who lives with his owner Ron Smid in a secluded area, disappeared into the woods last Thursday, April 23, returning a few minutes later — bleeding.
"He must have caught a scent and he didn't want to be called back," said Smid.
It wasn't until Bruce was examined by the vet and his body shaved, that the full extent of his injuries could be seen.
There were puncture wounds all over the dog's body and lacerations across his head.
"The largest wound that is apparent is a large tooth-like fang that went through the middle of his skull and it actually penetrated right to the bone," said Smid.
No one saw the attack, but Smid said both the vet and the local conservation officer agreed it was a cougar attack, and that Bruce's large, square head may have saved his life.
"The size of his skull that Bruce has, I think the cougar was actually unable to enclose its entire mouth around it and get leverage to actually crush the skull," he said.
Bruce is still nursing his wounds, but is in high spirits — especially after being fed treats at the vet's office.
He's back at home, but staying in the house until his wounds heal.
Bruce is just one of three of Smid's dogs. The attack was a wake-up call, Smid said, and the dogs will be kept under a closer watch from now on.
"I've been living in British Columbia for 16 years, I've never seen [a cougar] ... it's just made me aware that this can happen at anytime."