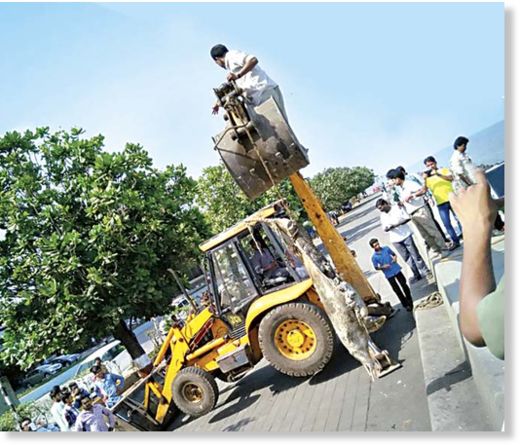 While BMC had dumped the dead mammal, found last week, in the Deonar dumping yard, they took nearly 15 hours to clear the body found on Monday; officials said the body was stuck between the rocks and was difficult to remove
More people, perhaps, have seen dolphins in the city in the past week or so, than they might've seen in their entire lifetime. Another dead dolphin washed ashore Marine Drive on Monday,
and this time, the civic body took nearly 15 hours to lift its body from the rocks.
The five-foot creature was spotted at 8 pm, on the rocks opposite the NCPA building. Locals informed the authorities and soon, officials from the Solid Waste Management of the A ward and the Marine Drive police reached the spot.
Last week, civic officials had displayed much alacrity and dumped a dead dolphin's body in the Deonar dump yard a couple of hours after it was found ('BMC dumps dead dolphin in trash', April 22), without even informing the forest department (FD) - as is required by law.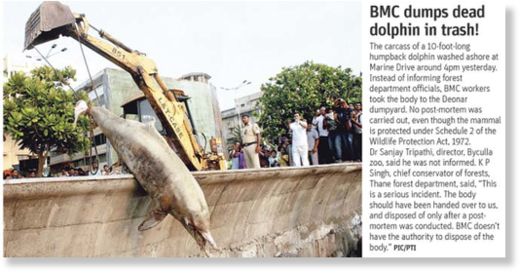 This time, however, police made sure they informed the forest department of the incident. R B Shahu, an officer from the Thane FD, said, "We received a text message from the BMC at 10.55 pm. Police and the BMC were present at the spot.
A dumper and JCB vehicle were called in around 12 am on Tuesday. But they couldn't manage to remove the body, since it had gotten stuck between the rocks." The fire brigade, too, was present on the scene. Attempts made by forest department officials to extract the body failed.
Naresh Rathod, assistant head supervisor, Solid Waste Management department, said, "The body was stuck between the rocks. We tried to push the body with the help of bamboos, after which we managed to lift it up at 10.30 am on Tuesday."
The corpse was taken to the Bombay Veterinary College in Vile Parle for an autopsy, and later cremated. Anil Todarmal, range forest officer, Thane FD, said the post-mortem has been conducted and the report would be out on Wednesday.