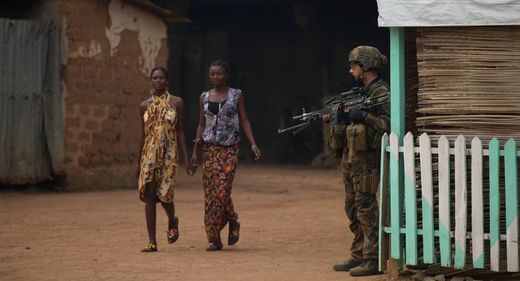 Swedish aid worker Anders Kompass has been suspended from his position at the Office of the UN High Commissioner for Human Rights after giving French prosecutors confidential information on sexual violence against children by French peacekeepers in the Central African Republic.
Kompass, who served at the OHCHR in Geneva, has been suspended from his post as Coordinator of Field Operations after leaking the
confidential UN report about French soldiers' purchase of sexual services at a refugee center in the Central African Republic in exchange for food and small sums of money.
The UN has accused him of leaking confidential information and breaching protocol, the aid worker now faces dismissal.
According to The Guardian, Kompass,
a thirty-year veteran in humanitarian work
, received access to the report in the summer of 2014.
He decided to send the report on to French prosecutors after finding the UN unwilling to take appropriate measures.
Moreover, he is reported to have traveled to the Central African Republic to carry out his own investigation.

Comment: Nothing like being dismissed from your humanitarian post for trying to keep children safe. Disgusting!


Beatrice Edwards, a representative of the Government Accountability Project, an organization supporting whistleblowers, told
The Guardian
that her organization has "represented many whistleblowers in the UN system over the years and in general the more serious the disclosure they make the more ferocious the retaliation."
Foreign Ministry Representative Anders Ronquist stepped out defense of Kompass, telling Swedish newspaper
Dagens Nyheter
that "Kompass has done a great deal for the UN in the area of human rights, [both] during his work for the organization in Latin America and after his move to Geneva." Ronquist added that "the UN cannot tolerate sexual violence against children and has a duty to do everything possible to see such cases investigated."
Swedish UN Ambassador Olof Skoog also defended Kompass.
However, Expressen has noted that Ban Ki-moon's office criticized the whistleblower, a spokesman for the General Secretary noting that "in our preliminary assessment, Kompass's behavior cannot be called whistleblowing."
Swedish media and officials have yet to reach Kompass. He is believed to be located in Geneva.
Human Rights activist Paula Donovan from the organization AIDS-Free World told
Svenska Dagbladet
that "this is shocking and horrifying evidence. Thanks to Anders Kompass, these horrors became public and are finally being investigated." Donavan is demanding the creation of a wider independent commission of inquiry into the UN's handling of sexual abuse by peacekeepers.