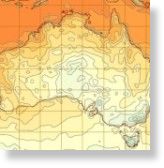 People in parts of the Northern Territory have experienced the coolest night of the year so far, with new record lows for April expected to be recorded in several places.
At 6:00am (CST) the temperature at Middle Point, 66 kilometres south-west of Darwin, was down to 13.1 Celsius, making it the coldest April temperature ever recorded at the site.
The temperature in Alice Springs was a chilly 1.7C overnight, making it the coolest night so far this year and fractionally above its coldest-ever recorded April temperature of 1.4C.
Bureau of Meteorology acting senior forecaster Billy Lynch said
he expected it would have been an April record in several parts of the Top End overnight.
"It is just an indication that we are getting off to a really good start to the Dry Season," Mr Lynch said.
The low temperatures were also affecting Darwin, where it got down to 20.5C, making it the coolest night of the year so far.
But the record low overnight at Middle Point was still above the coolest temperature ever recorded in Darwin, which was just 10.4C in July 1942.