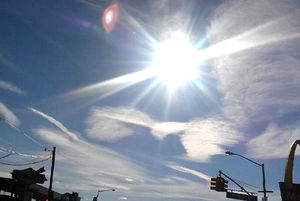 Several residents of the Hunts Point area in the Bronx reported spotting UFOs on Saturday night. Many of them called 911 to report their sighting, but when a reporter called for more information, the NYPD threatened to hang up.
According to the
New York Post
,
residents in Hunts Point began reporting bright objects shooting across the sky
at around 6:30 pm on Saturday, April 25, 2015.
Although many say they called 911, a story in the
Inquisitr
reports that the authorities were not very keen to talk about it. According to a
tweet
by a
New York Times
reporter, when he called the NYPD he was told that if he asked about the UFO he would "hear a dial tone."
The reporter, Liam Stack,
tweeted later
, "Pro tip: the NYPD public affairs office really does not like it when you call on a Saturday night to ask about UFOs in the Bronx.
The
New York Post
says that according to a New York City Fire Department (FDNY) source, one resident had called in terrified when she saw a "flying spaceship" fly over the Hunts Point area.
The
New York Post
also talked to Juan Marrero, another witness. He explained, "I look up and see this fireball, 'Whoosh!' and then another, 'Whoosh!'"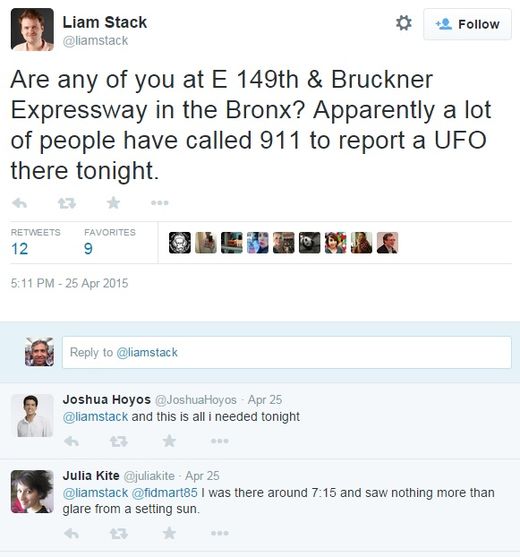 Marrero, described as a "pigeon fancier" by the
New York Post
, was on his rooftop when he spotted the UFOs. He says it was about 11:30 pm when he saw the two bright streaks shoot across the sky. He said they moved "From one side of the sky to the other, too fast for an airplane."
Another witness, Andres Morales, also saw a UFO and was able to snap a picture.
"I stuck my hand out the car window and snapped like crazy," he told the
New York Post
.
"I don't know what it was but it was moving crazy fast."
There was no information provided as to when Morales took his picture. The sun looks high in the sky in Morales' picture. At 11:30 pm it would have been dark. If he saw the object in the 6:30 pm time frame, that would have been about an hour before sunset.
It is hard to tell if he even really caught the object on camera at all. The picture could be showing a lens flare, which is common when shooting into the sun.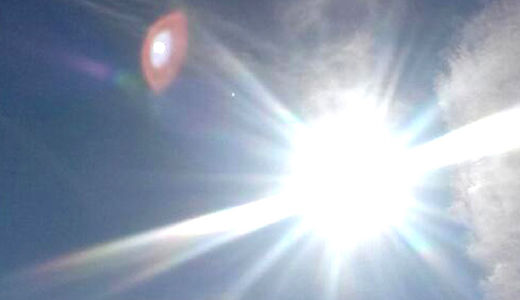 The
New York Post
asked New York City based UFO journalist
Ryan Sprague
what he thought of the sightings. Sprague told them that there were similar sightings in this area last year. He says, "I definitely think we're dealing with anomalies that could potentially be nonhuman."
Although, Sprague also noted that Hunts Point is near La Guardia Airport, so sightings in the area could be due to "misidentifications."
Even so, Sprague does not think UFO sightings in the area should automatically be discounted.
He says the sightings last year had similar descriptions. He says witnesses reported that the UFO "just sort of hovered, stationary, and then shot off in the blink of an eye."
"The maneuvers these objects seem to be making don't fit with any current technology that we're aware of," Sprague said. "They're not moving, then darting off at unbelievable speeds."
One resident took a light hearted perspective on the sightings. He posited that perhaps aliens were coming to the Bronx to learn how to break dance.
In a
follow up story by the New York Post
, other Bronx residents had a similar sentiment. Bronx Borough President Ruben Diaz Jr. says he would welcome extraterrestrial visitors. He added, "And we would expect that if you traveled all that distance to Earth, you would want to see The Bronx first."
Local bodega worker Hector Flores told the
New York Post
, "If that thing really was a UFO and they were just checking us out of curiosity, I say, 'Welcome to our planet, dudes.'"
Flores joked, "As long as you're coming in peace, we can chill. I'll introduce you to some ladies. Just don't eat me!"
Referring to the movie
Men in Black
, a spokesman for Bronx-based Assembly Speaker Carl Heastie told the
New York Post
, "Will Smith and Tommy Lee Jones are on the case."
However, Ted Roe, executive director of the National Aviation Reporting Center on Anomalous Phenomena (
NARCAP
), says sightings like this need to be taken seriously by authorities.
"When you have an issue like this, in an area with high-level public interest, science needs to engage, not ignore it," says Roe. "These things are in controlled airspace over cities, so that's a concern."
Roe added, "If we have things moving about in the sky that pilots aren't trained to react to, it's important to figure out what it is. It's a safety factor. We need to pay attention to what's going on out there."
Local experts at the New York State chapter of the
Mutual UFO Network
have attributed Saturday's sightings to the Lyrid's meteor shower, which lasted from April 22 to 26. A NASA spokesperson told the
New York Post
that they had received at least one report of a meteor at around 4:20 am on Sunday.
A large fireball set social media ablaze in Northern Ireland on Sunday. It was seen at about 10 pm Sunday night and was caught on video. A representative from a local observatory told the
Belfast Telegraph
that a space rock the size of a grapefruit was most likely responsible for the fireball.
He explained, "Upon entering the atmosphere, friction - air molecules bouncing off it - caused it to heat up and glow. This light that we see from the ground is what we call a meteor. Eventually, the intense heat caused it to vaporise completely before reaching the ground."