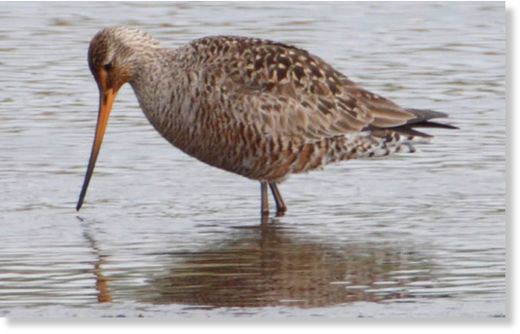 The sighting of a rare wader has seen hundreds of excited birdwatchers descend in Somerset this weekend
The sighting of a rare wader has seen hundreds of excited birdwatchers descend in Somerset this weekend after it took a
4,000-mile detour to England.
Each spring the Hudsonian Godwit heads from South America to its breeding grounds in Canada and Alaska. But following its detour, twitchers are hoping to spot the bird
only for the third time in the UK.
The kerfuffle started when a birdwatcher identified one on the Somerset Levels and word got around. By Saturday afternoon more than 1,000 twitcher had reportedly lined the water's edge. A similar number of birdwatchers is expected on Sunday.
It is believed the large shorebird - which is now inhabiting the same space as its English counterparts, the Black Tailed Godwit and the Shapwick Heath - was last seen in the UK in 1988.
With a long beak and spindly legs,
the bird must have got lost and confused
and followed the wrong flock of birds across the Atlantic.
One birdwatcher Michael Trew, 70, said word spread about the bird via an online forum at 7.30am on Saturday.
The retired quantity surveyor said: "By the time I got there at about 9.30am there was the best part of 200 people there, but about 1,000 had turned up by the time I left.
"I think the last time anyone saw one of these it was about 30 years ago.
"It's not a migrating bird - it's not supposed to be here at all - and we can only assume it is one that has got lost.
"We only think that it has got mixed up in a flock of migrating birds and made its way here. It is quite a strange affair. We don't know how long it has even been here.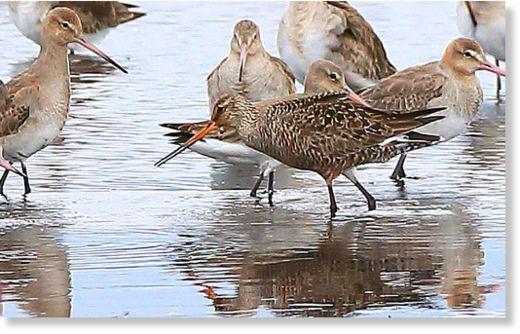 "It was spotted by someone who thought 'that one looks a bit different' but these things have to be verified before you get people driving from all over the place to see it.
"Someone came and checked and the word went out about 7.30am.
"I have only been bird watching for five years so it is quite good to have seen one - some people will have waited 30 years.
"They have just built a new car park down there which is just as well because it was filled and then double parked.
"It was a really nice day with everyone down there."