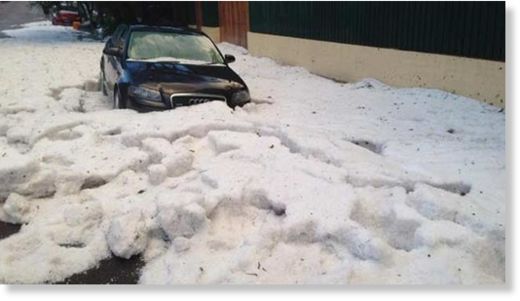 Seven factories collapsed, football matches were halted, power cut and roads turned into rivers after Sydney was smashed by a freak storm today.
A booming cold system which formed over the southwest slopes and the Blue Mountains hit the western suburbs mid-afternoon before its destructive winds and hail turned streets into snow fields.
More than 50cm of hail dumped on parts of western Sydney, with kids making snow men, sliding on cardboard boxes and throwing balls of ice.
Grown men got their snowboards out and started sliding down one suburban street in Newtown.
Cars on the M4, Princes Highway, Parramatta Rd and the Great Western Highway voluntarily stopped in their tracks because hail and wild rain made driving impossible.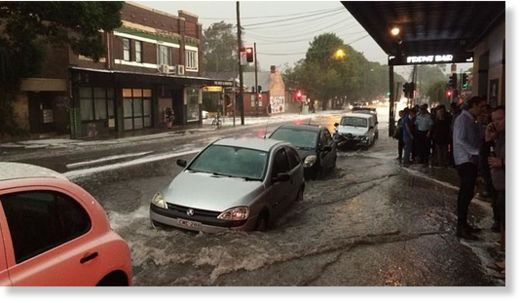 At Eastern Creek seven factories collapsed at Huntingwood Drive after 50cm of snow dumped on the areas.
Seven workers were lucky to make it out alive after the downpour.
"I couldn't believe it, it was like we were walking through snow," NSW Fire and Rescue's Supt Paul Johnstone said.
"I've never seen so much hail fall in one location. The factories just collapsed under the weight of the hail.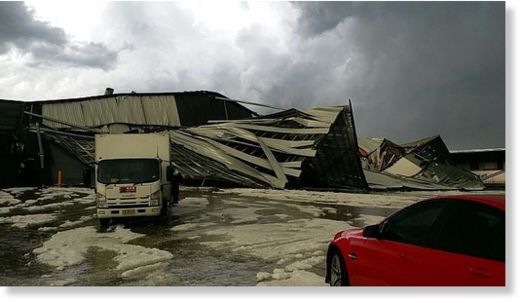 "There was also a gas leak from one of the buildings. Our crews did a search and rescue operations through all of the buildings. Fortunately the seven workers all self-evacuated."
The SES has received more than 600 calls for assistance across the city after 4pm yesterday, and they were expecting many more as wild winds and rain lashed the eastern suburbs overnight.
Players at the Western Sydney Wanderers and Perth Glory A-League matched were forced from the field at Parramatta's Pirtek Stadium after hail stones turned the pitch into an ice rink.
Hail also forced Roosters and Dragons players from the field at Allianz Stadium.
"There has been some very heavy rainfalls within 10-minute windows, which has led to heavy localised flash flooding," Bureau of Meteorology forecaster Francois Geffroy said.
"A large portion of the metro was hit, with most the storms were out in the west and south. It mostly missed the north and eastern parts of the metropolitan region.
"The largest hail stones were 2cm or slightly bigger than that, but most hail was about 1cm."
Mr Geffroy said a sharp drop in temperatures aloft allowed much of the hail to fall to the ground.
The Inner West suburbs of Marrickville and Newtown were blanketed in hail stones, turning many of the streets into snowfields that reached knee height.
SES crews were also forced to do a flood rescue on Gordon St Marrickville after a person became trapped in their Mercedes.
The highest rainfall recorded was at Prospect Reservoir, which copped 53mm of rain between 3.45pm and 4.45pm.
There was also high rainfall at Blacktown (51mm), Greystanes (47mm) and Merrylands (36mm).
"A large portion of the metro was hit, with most the storms were out in the west and south and mostly missed the north and eastern parts of the metropolitan region," Mr Geffroy said.
More than 700 homes and businesses in parts of Berkeley Vale, Chittaway Bay and North Sydney were without power after the storm.
A NSW Police spokeswoman said officers received reports of water being up to car doors on Flood St in Leichhardt.
The roof of the Erskineville Hotel in the inner west also collapsed.
"At about 5pm we had some bad weather and then pub had to shut down," licensee Holly Hancock said.
"It was absolutely the busiest day of the year, so the pub was packed. It started to hail and the hailing put weight on the roof.
"One of the small rooms of the pub had a leak and a part of the roof collapsed. It was a collapse of about 1sq m.
"The water flooded into the pokies room, and then into the rest of the pub. There was about a foot of water so we had to ask everyone nicely to leave."
"Luckily it was a collapse in one of the smaller rooms, not the main bar. We have put tarps up and hope to have the pub open again tomorrow."
Public transport was thrown into chaos after trains had to be stopped at about 5pm between Chatswood and Wynyard.
"Some traffic lights are out but it is sporadic around different areas," a Transport NSW spokeswoman said.
"There was a lot of hail over roads and people pulled over but not causing any major traffic conditions.
"We have one airport line T2 impacted with trains not able to stop at Green Square because of flooding.
"There is a shuttle bus running between Mascot and Green Square.
"There was some delays with trains due to the power cuts, but no problems with buses."