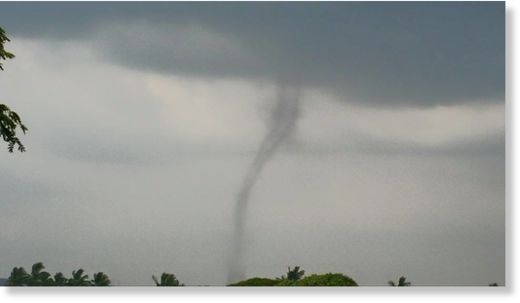 Our newsroom has been flooded with photos and video of a tornado that touched down in Kunia.
It reportedly formed at around 3 p.m., catching the attention of many in the area.
The National Weather Service confirmed a funnel cloud formed for less than half-an-hour and touched the ground at some point, which made it a tornado.
It was very weak. No damage has been reported so far.
Kapolei resident Rocky Lacuesta says he had just pulled into his driveway when he saw the tornado and went running for his camera.
"I ran to my wife and I said oh my God I think I just saw a tornado," he told KHON2.
"I came flying through the door and asked my wife are you seeing this," said Kapolei resident, Stephen Morrison.
Like many residents in West Oahu Morrison looked out his window to see a tornado.
"It was a very distinct skinny funnel not like a big one you see on TV, but you could obviously see that it was a perfect funnel shape from the cloud to the ground," said Morrison.
"It's classified as a tornado because we don't have a lot of classifications to go with," said National Weather Service Meteorologist, Tony Reynes."It was more than a funnel cloud and technically it was not a water spout because we didn't see the circulation over water."
While tornadoes in Hawaii are rare they have happened in the past.
In February of 2009 there was an F-1 tornado that touched down in Kapolei reaching wind speeds up to 110 miles per hour.