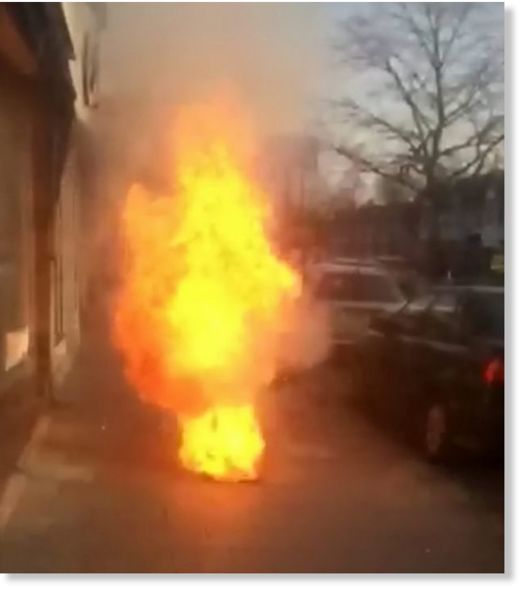 A tradesman walking to his local takeaway was suddenly confronted with a massive fireball which repeatedly erupted 15ft out of the pavement.
Lucky Shiraz Nawaz, 36, was strolling along the pavement when he heard buzzing from the ground just a few feet behind him.
He turned around just in time to see a massive plume of thick black smoke followed by huge orange flames shooting up from an open manhole.
The father-of-two managed to grab his phone just in time to film the astonishing incident on Stratford Road in Shirley, Solihull.
His footage shows plumes of dark smoke billowing up out of the charred ground, followed by repeated blasts of flames, reaching the top of the nearby shop fronts.
Miraculously nobody was hurt in the incident after Shiraz evacuated the nearby takeaway, told them to turn off their gas supply, and called the fire service.
Firefighters extinguished the blaze, which they said was caused by a fire in an underground link box - which distributes electricity - below the manhole.
Shiraz, a former gas engineer who now fits kitchens and bathrooms, said: "To think that I had just walked over that.
"The flames kept shooting up - maybe five or six times.
"I'm a building contractor so I knew that when I heard the noises it was something to do with electrics. It was like a buzzing.
"I knew what it was but I didn't expect flames to come shooting out straight away or anything like that.
"I'm so lucky I didn't get burned. I had just walked over it - I think I used up one of my lives right there."
Shiraz was walking from his home to the Dixie Chicken shop around the corner from his home when he saw the flames at around 7pm on Monday.
He was just metres away when he grabbed his phone to record the fireballs before stopping to dial 999.
"I got my phone out because I heard the actual noise and I think I saw a flash," he said.
"I think I managed to get it on film just as the first real flames came up. It looked like it was coming from a manhole cover. It was quite shocking.
"I feel very lucky. Had it literally been a few seconds earlier I would have been walking right over it.
"I stopped filming because I felt guilty and I knew I had to call the fire service.