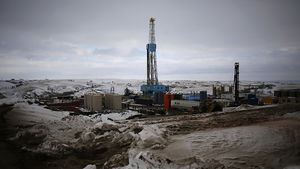 The Texas state House of Representatives has passed a bill that would block cities in Texas from banning the controversial oil and gas exploration method known as hydraulic fracturing, or fracking.
After an overwhelming vote of 122-18, the proposal - House Bill 40 - advanced to the state Senate, where lawmakers have not taken up the bill just yet. The bill featured 70 co-sponsors and had the support of the oil and gas industry.
The House vote comes just a few months after voters in a small Texas town called Denton approved a measure that banned fracking in the area. Denton was the first Texas city or county to ban the practice, the oil industry has already filed a lawsuit seeking to reverse the prohibition.
On Friday, Rep. Drew Darby (R-San Angelo), who introduced the bill, said the ban on banning fracking was needed to ensure that cities didn't implement different regulations that harm the state's economy.
"In the absence of this bill, a statewide patchwork of oil and gas regulation is likely," Darby said to the
Houston Chronicle.
Notably, similar comments were made by the Texas Oil & Gas Association, which is also suing Denton.
"HB 40 is a welcome solution because Texas can't afford a patchwork of regulations for an industry that supports 40 percent of our economy," the association tweeted after the vote, Reuters reported.
However, opponents say the measure would also take aim at measures passed by local communities addressing health, safety and more.
"It is a carte blanche for all sorts of heavy industries associated with energy production, including disposal, transport and processing,"
Texas Campaign for the Environment Executive Director Robin Schneider said to Reuters.
Additionally, supporters of the bill reached a deal with the oil and gas industry to block any amendments to the legislation - a move that angered some Democrats who want to make sure oil companies wouldn't be allowed to drill under city buildings and parks.
"I would say to you that you would be hard press to find anybody in the City of Houston to say yes to HB 40 if the intent of HB 40 is to allow any company to go to Memorial Park ... and drill for what's underneath," said Rep. Sylvester Turner (D-Houston) to the Chronicle.