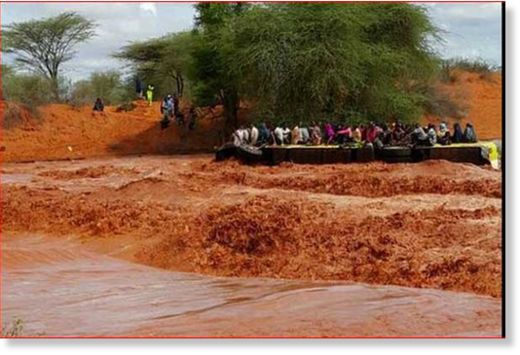 At least four passengers were killed
while more than 20 remained unaccounted for after floods swept away a bus in Mandera on Thursday.
County Commissioner Alex ole Nkoyo, who confirmed the four deaths, said rescuers were still searching for more bodies along the river where the incident occurred.
The bus, Mr Nkoyo said, had 59 passengers with an unknown number of children when it was rummaged by the fierce waters. Only 42 passengers had been rescued by around 5pm, Mr Nkoyo said.
There were fears that the number of those killed following the floods could rise as signs of more passengers being rescued faded as darkness neared.
"We had the police escort but their vehicle had already crossed the Gadudia seasonal river in which the bus stalled before it flooded," said Mr Nkoyo. The bus was traveling from Mandera to Nairobi.
Scores of passengers were washed away as others climbed on top of the bus to save their lives.
Mandera Kenya Red Cross Society coordinator Ahmed Mohamed also said 42 passengers who were in the bus as it tried to cross the river had been rescued by 2pm.
Mr Mohamed said the rescue operation was under way and involved the KRSC, the military and other government organs.
"We will brief you as the operation continues. It is ongoing. We will confirm the whereabouts of the rest," he said.
The KRCS official said the bus, which overturned after being rummaged by the floods, had been removed from the waters and turned over.
The bus got stuck in the mud before it was swept away by floods along with its passengers.
Mandera Town
"Several people have been carried away but the rest are on top of the bus after coming out through the windows," Mr Nkoyo had said earlier.
"The water level is coming down and we have formed a human wall to help rescue those on the bus and those who might have drowned," he added.
The incident occurred 35 kilometres from Mandera Town.
The bus was said to be the only one from Mandera that was heading to Nairobi as other bus companies kept off the roads due to heavy rains.