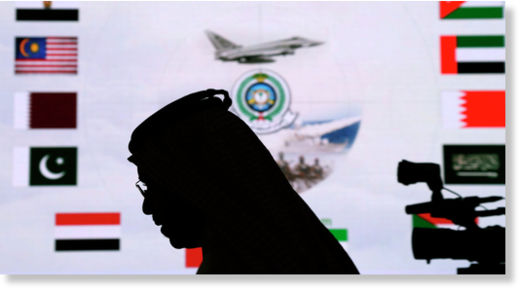 Britain and the United States have been accused of being complicit in war crimes in Yemen, and of being indirectly responsible for the deaths of many civilians, due to their role in exporting arms and military equipment to Saudi Arabia.
Following the UN Security Council's decision to impose an arms embargo on the Iran-allied Houthi rebel group in Yemen, critics of the opposing Saudi-led military operation in the country have accused the Saudi government of committing war crimes as a result of air strikes being conducted in the country.
Despite the aim of the Saudi operation centred on defeating the Houthi rebels and returning the ousted Yemeni government of Abd Rabbu Mansour Hadi to power, many civilians have been caught up in violence committed by both sides, with estimates suggesting that of the 650 people killed in the conflict, more than half of those have been civilians.
The UN has confirmed that hospitals, schools, a refugee camp and residential neighborhoods have been among those hit by Saudi airstrikes, while the conflict is creating ongoing humanitarian concerns in Yemen, with 100,000 people forced to leave their homes and many suffering shortages in food, shelter and water.
#UNSC demands end to #Yemen violence adopting resolution with Russia abstaininghttp://t.co/sgYXbTtnBI @Jamal_Benomar

— UN Media Liaison (@UNMediaLiaison) April 15, 2015
Houthi rebel military officials have claimed Saudi Arabia's coordination of airstrikes is in breach of "war crimes," and say key parts of Yemen's infrastructure, along with civilian positions are being targeted.
Meanwhile, a number of human rights organisations have also questioned whether the Saudi-led coalition is taking adequate precautions to ensure civilians are not being caught up in the violence.
British and American Complicity
While the Saudi Arabian-led military offensive in Yemen is being both praised and criticized by those on opposing sides of the conflict, Britain and UK are also being drawn into the violence, with critics accusing the countries of being somewhat responsible for the deaths of civilians, due to their military support for the Saudi Kingdom.
Both the UK and US have a long history of supplying arms and other forms of military equipment to Saudi Arabia, who is Britain's largest buyer of military weapons.
Last year, combined EU arms sales to the Middle East reached a record €9.7 billion. Full breakdown: http://t.co/UbnzeXibwp

— Ben Bowman (@bennosaurus) September 2, 2014
The claims of British complicity in the airstrikes follows widespread media reports, including those from the Saudi-owned Al Arabiya television station, which stated that British-made Tornado and UK-supplied Typhoon jets are among the 100 Saudi jets being used in the military offensive.
While British Foreign Secretary Philip Hammond hasn't confirmed if UK jets were being used in actual bombing operations, he said Saudi forces were using them.
"Saudis are, as I understand it, flying British-built aircraft in the campaign over Yemen and we have a significant infrastructure supporting the Saudi air force generally, and if we are requested to provide them with enhanced support — spare parts, maintenance, technical advice, resupply — we will seek to do so. We'll support the Saudis in every practical way short of engaging in combat."
Andrew Smith from the London-based Campaign Against Arms Trade (CAAT) has been vocal in calling for Britain to put an end to its arming of Saudi forces, telling Sputnik that such actions are putting the lives of innocent civilians at risk.
Government must ensure UK weapons are not being used against Yemen: Campaign Against Arms Trade (CAAT) ... https://t.co/SaOSuWD6Qp via @CAATuk

— CAAT (@CAATuk) March 30, 2015
"Unfortunately, it is no surprise that UK jets are being used. Successive governments have given an almost uncritical backing and support to the Saudi regime; regardless of the human rights abuses it has carried out.
"The government needs to finally end arms sales to Saudi Arabia and encourage all sides to work towards a peaceful solution. It is civilians who are paying the price, and we have already seen large numbers killed and wounded by the bombing."
War Crimes Committed 'On a Daily and Hourly Basis'
Despite the UK and US openly supporting the operations of the Saudi government in overthrowing the Houthis, others believe that London and Washington are acting in their own self-interest.
The Saudis will certainly face loss in this issue and won't emerge victorious at all.#Yemen pic.twitter.com/q2nrDAmPuL

— Khamenei.ir (@khamenei_ir) April 9, 2015
In an interview with Montreal-based think tank Global Research, Khaled Barakat from The Popular Front for the Liberation of Palestine (PFLP), said that US and British support for the Saudis was part of a plan to stir up conflict and ensure they maintain power over their own interests in the region.
"Who benefits from this war of aggression? The imperialist powers — particularly the US and Europe, which is also complicit in the face of war crimes."
Barakat believes that despite the military might of the US-backed Saudi coalition, it would be difficult to convince the people of Yemen to support what he calls another "puppet regime" that would serve the interests of Saudi Arabia and subsequently, the West.
As the conflict continues he says all parties must be held accountable for their actions.
"But what must be recorded is the reality that war crimes are happening on a daily and hourly basis in Yemen at the hands of the Saudi regime and its US backers — the destruction of the country, its civilian infrastructure, and the targeting of refugee camps."