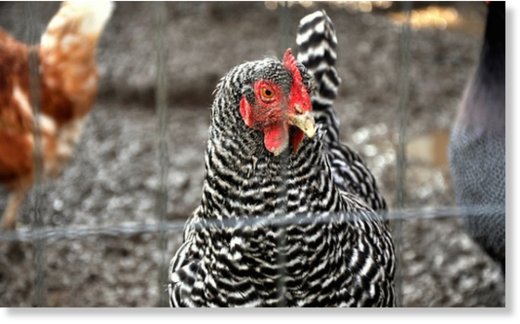 So far the United States Department of Agriculture (USDA) has confirmed that 23 U.S. poultry farms have been infected with the deadly H5N2 avian bird flu virus in a total of at least 7 states, including
California
, Minnesota, North Dakota, South Dakota, Missouri, Kansas, and Arkansas bringing the number of dead dinner birds, turkeys, to over 1.2 million in total as officials race the clock to contain the outbreak.
While officials maintain the massive die off, culling, of the fowl should pose little to no health threat to the general public, the loss has added to growing fears that this years poultry stock will weigh in at an all-time low. And coupled with the fact that California's extreme drought situation might affect up to 50% of America's, fruit, vegetable and nut supply within the next year or two we may soon be facing a massive food crisis.
According to reports the outbreak has baffled scientists who are scrambling to find the source which some say are water fowl, such as ducks.
So far the Hormel Foods Jennie-O Turkey Store, a bird farm of 310,000, located in Minnesota, was the most heavily impacted by the virus dwindling the states $600 million turkey business. In total, Hormel Foods has recently lost over 600,000 fowl to the outbreak
.
Alarmingly the
Star Tribune
recently reported how "farmers are trying to seal their barns to keep the bug out". Mike Hughlett wrote:
The bug is mysterious. It's believed to originate in wild waterfowl — particularly ducks — who don't get sick from the virus but spread it through their feces or nasal droppings. Somehow the virus has infiltrated enclosed barns stuffed with thousands of turkeys.
"When you look at a map, you see a lot of turkey farms in Minnesota," said T.J. Myers, associate deputy administrator in veterinary services for the U.S. Department of Agriculture. "When you look at a map of Minnesota, you also see a lot of lakes."
As of now we will just have to just wait and see if the virus can be quelled by officials before the strain mutates, possibly
jumping to humans
.
Additional Sources:
Bird flu outbreak spreads to 3 more Midwest turkey farms —
AP
Bird flu outbreak confirmed at 14th MN turkey farm —
KARE 11
Bird flu confirmed at North Dakota turkey farm, 4 more in Minnesota —
Fox News
Minnesota turkey farmers could take devastating financial hit because of bird flu —
Star Tribune