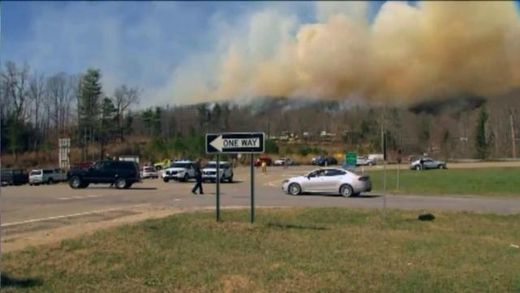 The U.S. Forest Service said trails and roads are closed for a wildfire burning near Linville Gorge.
The Blue Gravel wildfire is burning in a remote area east of Shortoff Mountain outside of the Linville Gorge Wilderness area on the Pisgah National Forest.
The size of the fire is estimated at 100 acres.
The Forest Service is assessing the fire to identify management actions. The wildfire, which started Saturday afternoon, is currently moving slowly. Forecasted precipitation could aid firefighting efforts, officials said.
Due to the wildfire and to protect public safety the following roads and trails are temporarily closed to public use:
- Back Irish Creek Road (Forest Service Road 118), also known as the Blue Gravel Road
- Shortoff Trail (TR 235);
- Mountains to Sea Trail (TR 440) from the Pinnacles trailhead to the Table Rock Picnic Area.
Approximately 73 firefighters from the U.S. Forest Service, N.C. Forest Service, The Nature Conservancy and local fire departments are assigned to the fire.
The wildfire is burning in an area where wildfires have frequently occurred, allowing the use of previously established containment lines. Those lines were successful in achieving containment in the past.
The cause of the fire is under investigation.