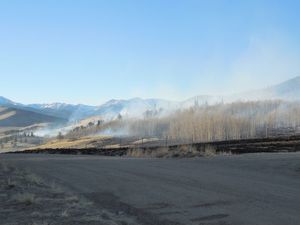 The U.S. Forest Service says "human shooting" sparked the 250-acre wildfire that is burning in the
area of US 285 and County Road 56 -
about 19 miles north of Fairplay and three miles southeast of Kenosha Pass.
Authorities are calling it the Snyder Creek II Fire because there was also a fire in the same area last year.
As of 10 p.m. Sunday, the blaze was 10 percent contained
. It's estimated to be fully under control by 6 p.m. Monday. The Snyder Creek II Fire was reported just after 4:20 p.m. Sunday.
Monte Gore of the Park County Sheriff's Office says no structures, people or livestock are threatened by the blaze.
Twenty to 30 mile per hour winds hindered firefighting efforts Sunday afternoon. Authorities said the east side of the fire was the main concern.
The U.S. Forest Service, Park County Sheriff, Platte Canyon Fire District, Jefferson-Como Fire District and North West Fire District were on the scene.
Much of Colorado was under a
Fire Weather Warning Sunday due to high winds
, warm temperatures and low humidity.