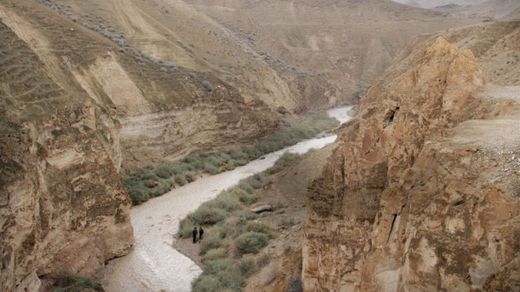 Heavy rainfall closed a road near the Dead Sea on Sunday as unseasonable downpours and stormy conditions continued to lash much of Israel over a wet weekend.
Parts of route 90 were closed to traffic as the Nahal David and Nahal Tze'elim streams, which run off into the salt-water lake, flooded the road. The highway was blocked south of Metzukei Dragot and north of Ein Bokek by the water.
Police and the Israel Nature and Parks Authority closed to the public hiking routes along wadis in the area as a safety precaution. The wadis are popular attractions during rainy seasons with hikers hoping to catch sight of rainwater from mountainous areas rushing along the riverbeds.
Israel Radio reported that hiking trails along the Nahal Darga, Nahal Hazezon, Nahal Tur, Nahal Temarim, Wadi Qelt, and Nahal Og streams were all closed to the public.
In the north, snow that had been falling throughout the weekend on the Golan Heights reached 20 centimeters at the Mount Hermon ski resort
, which was closed because of the conditions, and during the day bursts of hail pounded Jerusalem.
With temperatures already at an 18-year low
, forecasts called for more cold and rain across most of Israel on Sunday, reaching all the way to the Negev desert in the south and possibly even the port city of Eilat at the southern tip of the country.
The rain was expected to lighten toward the evening and then fade away over the following two days. However, the inclement weather could briefly return on Thursday.
After last week saw temperatures reach 40°C (104°F) in some areas, a sudden cold snap brought temperatures down to well below seasonal averages.
Temperatures in Jerusalem were predicted to drop below 10°C (50° F) by the evening and could fall as low as 5°C (41°F). In Tel Aviv, temperatures are expected to range from 10-14°C (50-57°F). According to the Israel Meteorological Service, average temperatures for Tel Aviv in April range from 14-22° C (57-71° F) and in Jerusalem from 12-21° C (53-69° F
).