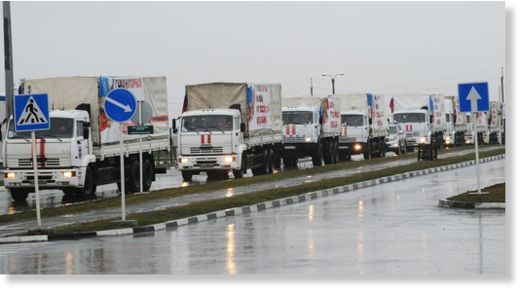 The Russian emergencies ministry is preparing a new humanitarian aid convoy for the east Ukrainian Donbas region, the ministry said in a statement Monday.
"Russia's Emergencies Ministry has started forming the 24th humanitarian aid convoy for residents of Donbas. This morning, 23 vehicles left Noginsky rescue center of Russia's Emergencies Ministry for Kovalevka village in the Rostov region carrying humanitarian aid to the residents of Donetsk and Luhansk regions," the statement said.
According to the ministry, more vehicles will join the convoy in the Rostov region before heading to Donbas.
Since August 2014, Russia has sent over 25,000 tons of humanitarian aid — mainly food products, medicine and construction materials — to the people in the Donetsk and Luhansk regions, who have been suffering from a humanitarian crisis resulting from a military operation launched by Kiev authorities in Donbas in April, 2014.