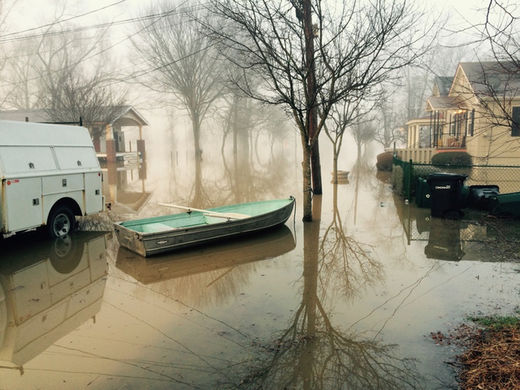 Heavy rain and storms moved out of Ohio yesterday, wrapping up a soggy workweek that brought flooding and damage to many parts of the state.
Flood warnings and flash-flood watches lingered yesterday in southern and southeastern Ohio while residents of other areas assessed this week's weather damage.
Flooding in Tuscarawas and Harrison counties in eastern Ohio on Thursday turned yards into lakes and kept many drivers off the roads, WKYC-TV of Cleveland reported.
"The water was rising, and it kept going higher and higher with all the rain," said Sherry Byrd in Harrison County. "This is the worst we've ever seen it."
Severe winds in Blue Rock brought down trees and power lines on Thursday
, leaving 1,200 residents of the Muskingum County village without power, according to the
Times Recorder
in Zanesville.
Ohio is expected to have several mostly dry days after the rain moved out of the state yesterday.
In northwestern Ohio, the National Weather Service planned to dispatch a survey crew to Lucas, Ottawa and Wood counties yesterday to assess damage and see whether any of the numerous reports of funnel clouds and some reports of tornadoes on the ground on Thursday could be confirmed.
A
tornado
was reported on the ground along Rt. 795 in Wood County's Lake Township before 8:30 p.m. Thursday and then near Dunbridge and Reitz roads, about 10 miles north of Bowling Green. There were no reports of injuries or property damage. Wood County deputy sheriffs reported utility poles were down along Rt. 199 near Lime City Road, also about 10 miles north of Bowling Green.
In Ottawa County, where spotters reported a
tornado
on the ground in the Genoa area about 8:40 p.m., deputies reported no damage or injuries.
The weather service received reports of
hail
throughout northwestern Ohio, ranging from three-quarter-inch-diameter hailstones near Whitehouse to 11/2-inch- diameter hailstones south of Perrysburg.
Funnel clouds
were reported near Maumee, Walbridge, Van Buren and Fostoria. Martin Thompson, a hydrometeorological technician with the weather service in Cleveland, said reports showed that none of the funnels touched down.
Mark Durbin, a FirstEnergy spokesman, said about 1,500 utility customers lost power in northwestern Ohio because of downed lines from late morning to early evening Thursday. Outages were "widely scattered," he said. Utility crews restored power to all affected customers by early Thursday night, he said.