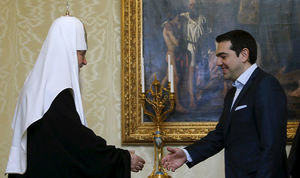 President Vladimir Putin has presented Greek Prime Minister Alexis Tsipras with an ancient Greek icon that had been looted decades earlier, during the Nazi occupation of Greece.
Putin's spokesman Dmitry Peskov said in comments to news site Vesti.ru on Thursday that Putin personally gave Tsipras the icon, which depicts Saint Nicholas and Saint Spyridon, following their talks at the Kremlin on Wednesday.
Peskov said the icon was stolen by a Nazi officer when Greece was under German occupation during World War II, and had recently been purchased from the officer's descendants by an unnamed Russian man.
With many private partners, Russia is eager to establish strong financial and political cooperation, but also cultural exchange.
"The Prime Minister of Greece Alexis Tsipras gave an icon of St. Nicholas the Wonderworker and St. Spyridon, which was stolen during the occupation of the monastery of Sparta Nazi officer Friedrich-Wilhelm Müller", - quotes RIA Novosti source in the Greek government. Now, the relic will be able to return to their own rightful owners.
Friedrich-Wilhelm Müller - Nazi officer who stole the icon from Greek monastery - during the war, earned the nickname the Butcher of Crete. He has sanctioned the so-called massacre in Viannos, when in early September 1943, the German troops destroyed the inhabitants of almost 20 villages. In retaliation for their support of the guerrillas were killed over 500 people. In 1945 Mueller was arrested by the red army and handed over to Greek authorities. In 1947, he was executed in Crete.
He added that later, the icon was purchased by patrons from the descendants of the Nazis. "And thus the icon was back where she promised to be historically," said Sands. He stressed that the Russian President Vladimir Putin gave the relic directly to the Prime Minister of Greece Alexis Tsipras.
News of the icon's return broke as the State Duma, Russia's lower house of parliament, prepares to host the relics of St. George, which hail from Greece's Mount Athos.
Saint George is one of the most venerated saints in the Russian Orthodox Church. Seen as the patron of warriors, he is portrayed on Moscow's coat of arms.
The Russian Orthodox Church has been the bulwark of President Vladimir Putin's turn toward conservatism and traditionalist values during his third term in the Kremlin.
In recent months, the federal government has sided with the church in a scandal with over a rendition of Richard Wagner's opera
Tannhäuser
in the Siberian city of Novosibirsk, and Patriarch Kirill has delivered his first speech in the State Duma this January.