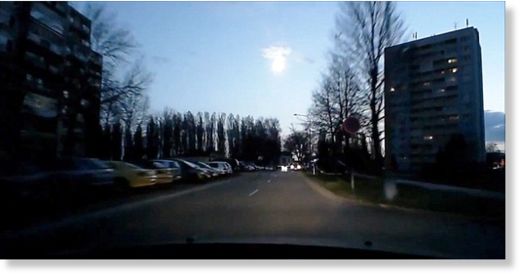 The spectacular moment a meteor plummets towards a city in Slovakia before dissolving in a flash of light has been captured on camera.
The 'out-of-this-world' action was spotted by hundreds of worried people in the eastern part of Slovakia shortly before dusk on April 6 - who feared the asteroid would crash into their homes.
Lasting only a few seconds, the clip shows the meteor racing rapidly towards earth.
A split second later there is a flash of a fireball, before the bright yellow light quickly disintegrates and disappears.
It was filmed and uploaded to YouTube by a user called NikoLas Vegas, who said he was initially concerned the object would have crash-landed onto earth when he saw it at 7.34pm local time.
He told a Slovak news website: 'I was driving my car when I spotted something amazing up in the sky. I don't know what it was but I posted a video of it online to share it with others.'
He added: 'I was a bit worried that some of it had actually landed on the airport in Kosice but I was told later that it had disintegrated before it hit the ground.'
Slovak astronomer Jan Svoren said that it was a meteor of the type known as a bolide.
They are characterised as burning extremely bright, often seconds before exploding in the atmosphere — at the same time as creating an even brighter fireball.
One video of the meteor was taken from a car in the Hungarian town of Rakospalota, and another in a second car in the Slovak city of Kosice on April 6.
Five years ago, parts of a meteor were found in the same location near the city of Kosice.
Amateur astrologers and collectors managed to recover 64 fragments, of which the biggest one weighed over four pounds.