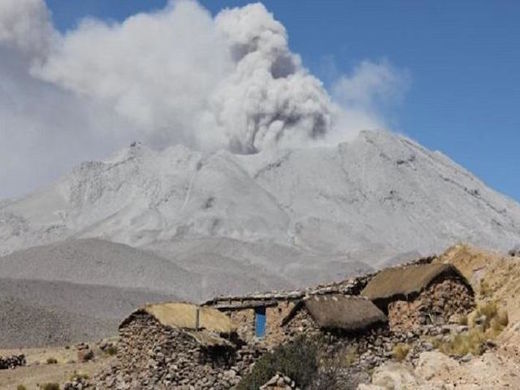 The
Ubinas volcano erupted
early this morning, sprinkling ashes over villages only minutes later.
Nearly on the anniversary of the evacuation of
28 thousand camelids
from its pastures, the Ubinas volcano erupts once again.
The Ubinas volcano of the Moquegua region erupted this morning at 4:24 a.m. causing a layer of ash to fall over nearby villages minutes later, according to
Perú21
.
On March 31, 2014, the
volcano's eruption
caused Querapi residents to be evacuated as it sits just five kilometers from the volcano. Days later on April 21, Peru ordered the evacuation of the camelid animals, as the volcano posed a threat following further activity.
Today the Ubinas volcano erupted after about four months of calm. The National Service of Meteorology and Hydrology of Peru (SENAMHI) calculated that the 2.5 km column of ash above the crater could reach more than 15 kilometers to the southeast.
Escacha and Ubinas Valley therefore will be receiving a layer of ash on their homes, cars, sidewalks, and buidlings today following the eruption.
Scientific institutions advise that the local populations protect themselves with masks and goggles and to protect water resources and food to prevent contamination.
For about 40 years the volcano had been inactive, until 2006 when it began to register more activity. Since then, seismic activity, small eruptions, rocks and ash spewing from its crater have been a common occurrence.