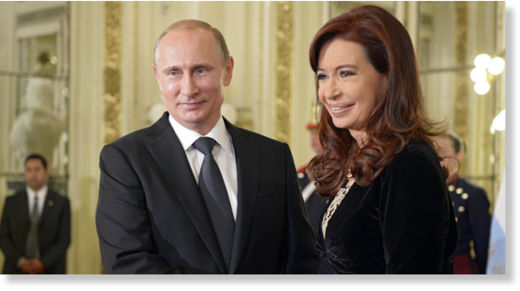 Russian President Vladimir Putin will meet his Argentine counterpart, Cristina Kirchner, on April 23 in Russia, the Kremlin press service announced Wednesday.
The two leaders are planning to discuss the future development of trade and economic ties, as well as the expansion of cooperation in investment.
"The leaders of the countries will also look into their interaction on the topical international agenda, bilaterally as well as within the framework of multilateral organizations — the UN, the G20 and through regional integration," the press service said.
In light of Russia's souring relations with the West in 2014 over the crisis in Ukraine, Moscow has significantly increased its economic, trade and other cooperation with the countries of Latin America, the BRICS and the Asia-Pacific region.
In 2014, head of Russian agricultural watchdog Rosselkhoznadzor Sergei Dankvert said that Russia expects to increase its bilateral trade with Argentine to $3 billion in 2015 - a significant increase from $1.9 billion trade turnover in 2013.