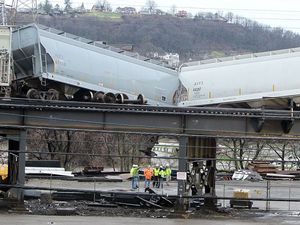 Crews tending to a Queensgate train derailment have made progress during Friday cleanup efforts and said they expected to have all cars re-railed and the line reopened by evening, according to CSX.
Emergency crews responded to the derailment near Third and Gest streets in Queensgate Thursday evening. Six freight cars derailed and two were left hanging off the side of the elevated tracks that run parallel to Third Street.
The train was comprised of four engines and 104 total cars. Of the six cars that derailed, five were empty and one contained plastic pellets, according to CSX spokesman Rob Doolittle.
None of the shipping containers were holding hazardous materials, although a Cincinnati hazmat team was present at the scene Thursday as a precaution.
The cause of the derailment is still being investigated, Doolittle said, and no injuries resulted from the derailment.
"CSX appreciated the quick response of local first responders, and apologizes for any inconvenience this incident may have caused the citizens of Cincinnati," Doolittle told The Enquirer. "We're sorry to Cincinnati for the inconvenience."
Police said earlier Friday morning no pedestrians are allowed on Third Street between Gest Street and the Clay Wade Bailey Bridge. Gest Street is closed between Pete Rose Way and Sixth Street.
Two large cranes and an excavator could be seen at the scene near Third and Gest streets Friday morning, although it didn't appear either had been used yet.
A Cincinnati Police dispatcher from District 1 confirmed Thursday night that a train derailed from an elevated track around 11 p.m. CSX crews were on the scene assessing the situation as of 11:35 p.m.
Immediate road closings included Third Street and Gest Street near the location of the derailment. Gest was also closed at the intersection of 5th Street.