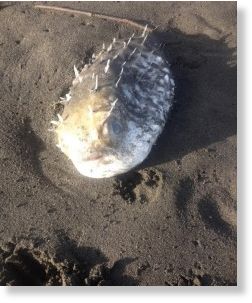 A wave of poisonous porcupine fish have washed up on a New Plymouth beach.
Ted Burrows said he was out walking between the Waiwhakaiho groyne and Fitzroy Beach on Monday morning and estimated
up to 50 of the fish had washed ashore.
Burrows said he had seen the fish washed up before,
but only two or three at a time.
Department of Conservation marine ranger Callum Lilley said the fish were present in Taranaki waters and he had encountered them on the beach two or three times over the past 10 years.
He said the fish, a close relative of pufferfish, were poisonous and DOC would dispose of them. He said they might have washed up on other beaches as well.
"We do have them offshore out here and occasionally we do have a whole lot wash ashore," he said.
"They are fairly poisonous, so we would certainly encourage people to keep an eye out for them while walking their dogs or out with their children.
"We will go down there and dispose of them, but they could be anywhere and we can't get them all ourselves so we would ask people to take precautions themselves."
Porcupine fish are from a family of fish also known as tetraodontidae, amongst the most poisonous vertebrate in the world.
Some species of the fish family contain the nerve poison tetrodotoxin, highly toxic to humans and most animals.
In Asian cultures, most notably Japan where it is known as fugu, specially trained chefs prepare pufferfish, removing the poison so it is safe for human consumption.
The fish are considered a great delicacy.
Initially a person poisoned by tetrodotoxin remains fully conscious while paralysis and respiratory failure take hold. Early symptoms of poisoning can include dizziness, exhaustion, headache, nausea, or difficulty breathing.
Source: Taranaki Daily News