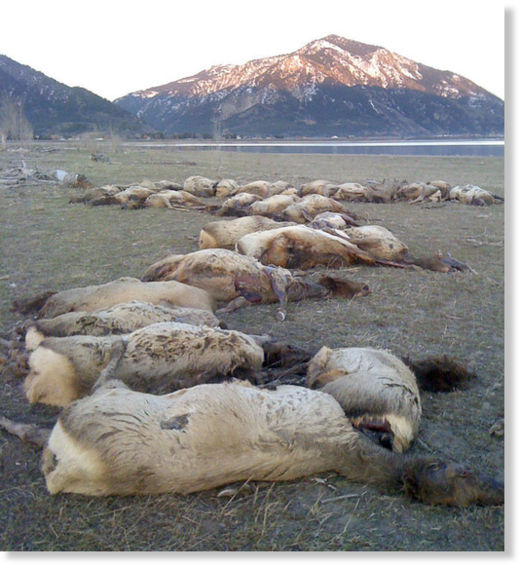 An eye-opening cluster of dead elk is decaying on the shores of Palisades Reservoir after an unusual but natural occurrence of a herd venturing onto thin ice and breaking through.
The elk crashed through the ice on March 21 near where the Snake and Greys rivers meet at the southeast corner of the reservoir, which straddles the Wyoming-Idaho border, Wyoming Game and Fish Department regional supervisor Tim Fuchs said. The elk were later pulled to shore.
Warden Todd Graham responded to a call the day of the event and found 31 dead elk floating, Fuchs said.
"They kind of straddled the state line," Fuchs said. "Twenty-five were on the Idaho side and the remainder on the Wyoming side."
There were likely more dead elk that had drifted off, he said — potentially as many as 50 total.
Last weekend a local resident pulled the carcasses onto the shore of the lake to collect their ivories, Alpine resident John Stephenson said. The herd that died consisted of all cows and calves; in preceding weeks the group had been eating its way through Stephenson's neighborhood, he said.
"They ate a lot of the bushes," he said, "so I think not a lot of my neighbors were enamored with the elk coming through."
The Alpine resident thought the die-off, though natural, was a shame.
"I'm a hunter so it seems like kind of a waste to me," Stephenson said. "I'd like to see those on dinner plates rather than thrown out in the river."
Elk and other ungulates do occasionally break through ice-capped waters and drown, but rarely in such large numbers,
Fuchs said.
"It's not unusual to have some fall through," he said. "This is one of the higher amounts of elk that we have ever had go through the ice, at least in the last 10 or 15 years."
In late December about 20 elk died in the frigid waters of Echo Canyon Reservoir near Pagosa Springs, Colorado, according to The Denver Post.
Natural disasters such as lightning and avalanches also occasionally kill groups of elk. A toxic lichen that grows in the Red Rim area southwest of Rawlins has wiped out droves of elk at times. Fifty died from it in 2008, and 300 were poisoned and fell dead in 2004.
The dead elk at Palisades, Fuchs said, were probably members of either the Afton or Fall Creek herds, which mix to some extent in the Snake River Canyon.
"Certainly we don't ever like to lose 50 animals in one shot," he said. "But as far as impacting [the herd's] overall well-being ... both of them are large enough that they could sustain that. We don't expect large-scale impacts."
Game and Fish has no plans to move the dead elk, which will be left to the elements and scavengers.
"There's a flock of crows over them now," said Stephenson, who lives 400 yards away.
A photographer, Stephenson said he plans to make the best of a bad situation and get some shots of foxes and coyotes that are drawn to the thousands of pounds of wapiti.