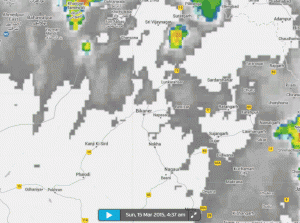 Remarkable, close-up video shows a dark and ominous tornado rolling through a city in northern India in mid-March. Winds whip as the photographer tries to hold the camera steady to capture the large, dusty funnel.
The Indian newspaper
Rajasthan Patrika writes
that the tornado touched down in the city of Bikaner in the state of Rajasthan in northern India.
The paper doesn't give a date for the tornado except to say that it was on a previous Sunday. Looking at satellite, it seems likely that it touched down on March 15, as intense storms swept across the state.
The tornado ripped up trees and power lines, and left more than 50 families displaced, reports Rajasthan Patrika. The paper also writes that there were no fatalities, though livestock were killed.
It's difficult to estimate how strong this tornado was in terms of the enhanced Fujita scale just by watching the video. The state of Rajasthan is almost entirely desert, and Bikaner's average annual rainfall is just over 10 inches. This tornado kicked up a lot of that dry desert dust which might have made it look more intense than it actually was, though it's impossible to give the twister a rating without seeing what kind of damage it caused on the ground. In any case, even weak tornadoes have winds of around 100 mph and can inflict severe damage along its path.