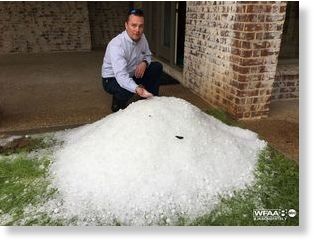 A powerful spring storm in northern Tarrant and southern Denton counties Wednesday afternoon brought heavy rain, flash flooding and some hail damage.
"We do not have any severe weather; that is the good news," said WFAA Chief Meteorologist Pete Delkus at 6 p.m.
The storm system created some tennis ball-sized hail in Haslet that piled up on grassy areas.
Aerial views from HD Chopper 8 showed some broken skylights and flash flooding near Eagle Mountain Lake.
As much as two inches of rain fell over a 90-minute period in some places. More isolated rain storms are possible on Wednesday evening, but Delkus said Thursday will bring sunshine and the warmest day so far in 2015.