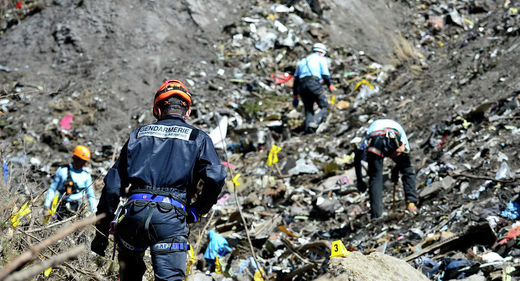 The second black box from the Germanwings Airbus A320 plane that crashed in the French Alps en route from Barcelona to Dusseldorf on March 24 has been found Thursday, according to prosecutors.
Marseille Prosecutor Brice Robin has confirmed Thursday that the flight data recorder had been recovered from the crashed Airbus. The second recorder contains specific parameters of the aircraft during the flight, including its speed, altitude and flight direction.
Officials hope that the second black box, the flight data recorder, would unveil more details about the catastrophe that had left 150 people aboard the flight dead.
According to earlier media reports, the second black box is "severely damaged," and its memory chip is dislodged.
Investigators said that information revealed by the voice recorder, the first black box, suggested that A320 co-pilot Andreas Lubitz had crashed the plane after locking the pilot out of the cockpit.
German state prosecutors' office said Thursday that data from the computer of Lubitz suggested that he had researched methods of committing suicide between March 16 and 23, just before the deadly crash in the French Alps.
The Airbus co-pilot was searching for medical treatment and suicide methods, moreover, he looked at search terms involving cockpit doors and their safety precautions at least once, spokesman for the German prosecutors' office in the city of Dusseldorf Ralf Herrenbrueck said.
Earlier in the day, German newspaper
Bild
reported that Lubitz had lied to doctors that he had been off sick while flying for the Germanwings low-cost carrier. Lubitz had taken antidepressants, tranquilizers and other medication to treat depression, the news outlet added.
Prosecutors from Germany, France and Spain are currently looking into the fatal incident.