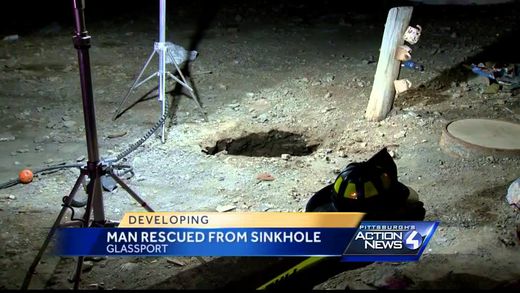 A sinkhole has been covered alongside the W.D. Mansfield Memorial Bridge underpass carrying West Fifth Avenue traffic from McKeesport onto Monongahela Avenue in Glassport.
But it's uncertain who's responsible for its maintenance, three days after a man was injured falling into the sinkhole as it opened up under him.
"That is not the department's roadway," PennDOT District 11 spokesman Steve Cowan said. "My documents do not show who is the owner of the road, but I would think it would either be the municipality or the county."
Glassport and Allegheny County officials said they are looking into the matter.
The hole is on the Glassport side of the municipal line, alongside a road that carries traffic under the county-maintained Mansfield Bridge.
"There has been no determination made as to whose responsibility it is to address the sinkhole," county spokeswoman Amie Downs said late Monday. "But we are partnering with the municipality to determine how best to address the issue."
Rescuers pulled a man from the sinkhole after he had the presence of mind — and could access a cellphone signal — to call for help.
West Fifth Avenue was closed during the rescue, which began around 7:30 p.m. Saturday. McKeesport Deputy Fire Chief Don Sabol said train traffic was stopped as well.
According to Trib Total Media news exchange partner WPXI-11, the man was flown to a Pittsburgh hospital.
The television station said the man is in his 40s and was walking to meet a friend at a convenience store when the accident occurred.
He was roughly 10 feet down," Glassport Assistant Chief Bruce Snyr told WPXI. "I don't understand how he wasn't hurt more than he was."
"
McKeesport, Glassport and Pleasant Hills firefighters were called to the scene.
According to Allegheny County real estate records, CSX owns much of the riverside property along Monongahela Avenue in Glassport. A CSX spokesman said late Monday that he was looking into the situation.