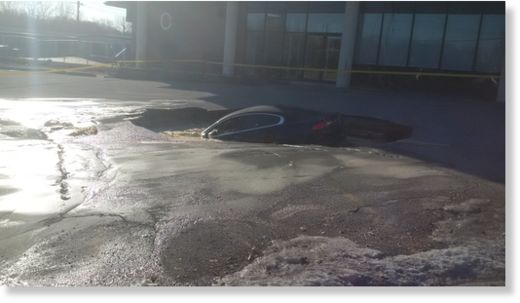 No injuries were reported after a car fell into a large sinkhole at a west-end Toronto parking lot Wednesday morning.
Toronto police spokesperson Cst. Victor Kwong said the hole was originally reported the day before but the vehicle fell in today.
A photograph posted on Twitter by Metrolinx spokesperson Anne Marie Aikins shows the car's front end completely immersed in the ground with its trunk and roof visible.
The sinkhole is located at parking lot on Todd Baylis Blvd. at Industry St. near the Black Creek Dr. area.
Aikins said on Twitter the hole is not linked to the Crosstown Eglinton underground construction.
Metrolinx, the province's regional transit agency, said underground tunneling for the Crosstown project may have contributed to a damaged roadway on Eglinton Ave. W. earlier this month which closed a portion of the street for several weeks.
Police say the parking lot is off-limits to drivers and employees at a nearby building have been told to go home for the day.