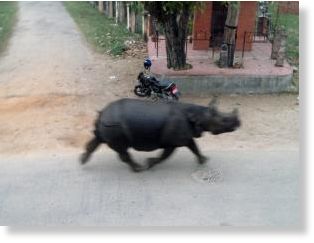 A 61-year-old woman was killed and eight others were injured on Monday when a wild rhinoceros attacked people at a busy market in central Nepal. The woman is a resident of Hetauda town, Hetauda's Superintendent of Police Prakashjung Karki said.
She was critically injured in the attack, died in course of treatment at Hetauda Hospital, Karki was quoted as saying by the
Himalyan Times
. A cow was also injured in the attack in Hetauda market.
The animal entered the human settlement from Chitwan National Park early on Monday.
The rhino is hiding in a bush near the Rapti River and the personnel from Armed Police Force and Nepal Police are trying to take it under control, Karki said.
It's uncommon of rhinos to kill people in Nepal
even as deforestation often forces them to enter nearby villages. The number of one-horned rhinos that dominated the plains of Nepal in the past has gone down owing to poaching and human encroachment of their habitat.