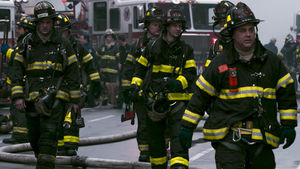 A huge fire started on 66th Street and 1st Avenue in New York, witnesses reported, posting pictures of the blaze on Twitter. Locals tweet that a newly-renovated Dunkin' Donuts was located in the building.
Firefighters managed to put out the blaze that started at the sixth floor of a residential building. Flames could be seen coming out of the top floors.
No possible causes of the fire have yet been given, or any information as to casualties.
The Fire Department used at least two large cherry-pickers to get the firefighters closer to the blaze and eventually managed to get it under control, after blasting thousands of gallons of water to put out the fire.
A massive fire tore through several buildings in New York City's East Village on Thursday, leaving at least 19 people injured, four of them in a critical condition. More than 200 New York firefighters arrived at the scene to tackle the blaze. It was thought to have been caused by a gas-related explosion that started at 121 2nd Avenue, though an investigation is still ongoing.