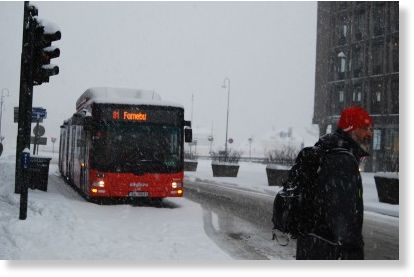 Oslo's bus system shut down, trams weren't running, some trains stood still and Norway's gateway airport at Gardermoen, north of Oslo, finally had to close. Warnings had been issued about Thursday's snowstorm, but it proved to be more than transport systems could handle.
The blizzard that began during the night and built up during the morning had dumped more than 40 centimeters of snow on the southern coastal town of Arendal by midday. Some areas reported more than 60 centimeters and it was still coming down. Streets that did get cleared were covered with slippery snow again within minutes.

At Oslo's main airport at Gardermoen, the snow was falling so thick and fast that the airport's army of plows were out in force trying to keep the runways clear, but without much luck. "And when we have plows on the runways, planes can't land or take off," airport spokesman Joachim Wester Andersen told Norwegian Broadcasting (NRK).