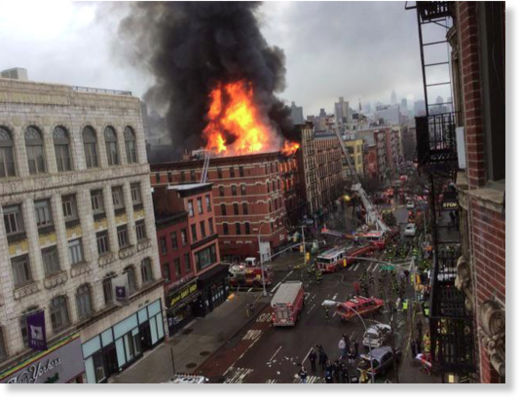 As many as 30 people are injured in Manhattan's East Village after an explosion and partial building collapse.
Flames are shooting high into the sky from two buildings as the New York Fire Department attempts to prevent the fire from spreading to other structures.
So far, up to 30 people were hurt in the collapse, law enforcement officials told the
New York Post
.
The raging fire has been upgraded to a four-alarm call at the mixed-occupancy building that the fire department called "a major building collapse" in a tweet. There are 25 units in the building, according to the New York Times, and 100 firefighters were immediately dispatched to the scene.
At least one person was removed from the area on a stretcher, WABC reported, noting that the building appeared to be a total loss.
The "smoke is overwhelming" at the scene, Allie Yang tweeted. In a follow-up tweet, she said that the fire department is closing of the area around 7th St and 2nd Avenue
.
"This is being considered a major emergency," an FDNY spokeswoman told the
New York Daily News
.
The explosion occurred around 3:15 p.m. ET, and the fire quickly got out of hand, with the FDNY upgrading it from a two-alarm to a seven-alarm call within half an hour.