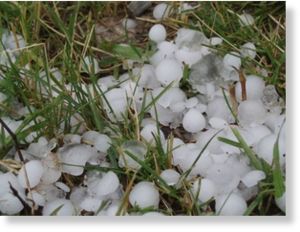 The most severe hailstorm in 40 years has hit the Mexican state of Michoacan, destroying avocado crops in some of the country's (and the world's) most productive municipalities.
The most affected Michoacan municipalities are Ziracuaretiro, San Juan Nuevo, Tancítaro and Uruapan.
It is estimated that more than 17,000 hectares have been seriously affected, and that the production of other
fruits, such as blackberries and blueberries, has also been lost.
The extent of the destruction has been such that it has endangered the health of avocado trees in Tancítaro, which grows almost 20% of Michaoacan's total annual production, which in turn represents 85% of Mexico's total production.
"In Tancítaro, there will no longer be any production this season, as the trees will not recover and flower again until November," explained the delegate of the Secretariat of Rural Development (Sedru), Andrés Ciprés Murguía.
In San Juan Nuevo and Uruapan, the damage was not as great as in Ziracuaretiro, as due to their warmer climates the fruit was already in a more advanced development stage.
"We were informed that the hailstones were the size of ping-pong balls, and that even some people were injured,"
stated Andrés.